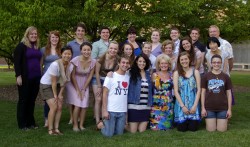 Drake faculty and students involved in the "Cultures in Harmony" international research project.
CONTACT: Leanne Freeman-Miller, 515-271-2154, leanne.freeman-miller@drake.edu
Twenty-five Drake University fine arts faculty members and students will employ music as a universal language on a weeklong trip to China in June. The trip, made possible thanks to a grant provided by Drake's Virtual Language Studies Program, is centered on the theme of "Cultures in Harmony: Transcending Language Barriers with Music."
"Our students will be impacted greatly by their experiences in China, and it is my hope that their vision and understanding of the greater global world is enhanced," said Leanne Freeman-Miller, associate professor of voice. Freeman-Miller applied for the grant and serves as trip coordinator.
The Drake group will study the cultural role of music in Chinese society and traditions of music and drama education. They will conduct research at several academic institutions, including:

* Hebei Vocational Arts College

* Hebei Normal University

* No. 43 Middle School in Shijiazhuang City

* Central Ethnic University for Nationalities in Beijing.
"I think that the educational exchanges at the universities will be valuable and enriching experiences," said Kelly Kretschmer, a senior music education major from Davenport, Iowa. "The music education systems are very different between our two countries, so it will be a great learning experience to see how people our age and younger are acquiring their education."
While visiting the schools, the Drake students will attend recitals and presentations performed by Chinese students and music educators. They will also represent Drake and the United States, performing concerts comprised of American art songs, arias and musical theater repertoire.
"Music encapsulates both cultural and personal expression — even though our traditions are very different, building upon a shared love of music allows us to develop a meaningful interaction that's understood across language and cultural barriers," said Kayleigh Koester, a junior international relations and music double major from Bloomfield, Neb.
"It is my hope to establish relationships with students and faculty at the institutions we visit so that we might have future exchange opportunities," Freeman-Miller said. "We may recruit Chinese music students to Drake, or establish a music faculty exchange. Drake students will also have the opportunity to stay with a Chinese family. The trip has been designed so that faculty and students are able to establish international relationships that will continue for the rest of their lives."
The group will also visit the Peking Opera House, Tiananmen Square, The Summer Palace, The Forbidden City and the Great Wall of China.


From Des Moines to Beijing: Drake students to perform send-off concert prior to trip



On Friday, June 3, the Drake students will perform an informal send-off concert at 4 p.m. in Sheslow Auditorium in Old Main, 2507 University Ave.
The event, which is free and open to the public, will feature songs that the students have prepared for their recitals in China. Drake faculty and staff who have helped plan the trip will be recognized, as well as individuals who have financially contributed to the project, and a reception will conclude the event.
For more information about the send-off concert or the trip, contact Freeman-Miller at 515-271-2154 or leanne.freeman-miller@drake.edu.