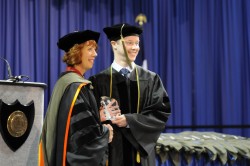 Andrew Roberts receives award from Dean Raylene Rospond
FOR IMMEDIATE RELEASE
June 2, 2011
CONTACT: Brianne Sanchez, 515-271-1834, brianne.sanchez@drake.edu
DRAKE PHARMACY GRAD RECEIVES KARBELING AWARD FOR LEADERSHIP,
PROFESSIONALISM
Drake University graduate Andrew Roberts recently received Drake's
fifth Karbeling Memorial Leadership Award in recognition of his leadership and
outstanding contributions to the University and the pharmacy profession.
The annual award is given to recognize a pharmacy student who has
shown leadership in professional education, association work, community service
and pharmacy practice. It was created in memory of Jerry Karbeling, a 1974
Drake pharmacy graduate and an outstanding alumnus who died in 2005.
"I was truly honored to receive the Karbeling
Memorial Leadership Award," said Roberts, who is from St. Joseph, Mo. "It is an
unbelievable source of encouragement to be associated with Mr. Karbeling's
legacy of dedication to advancing the profession of pharmacy."
The award was presented at Drake's May 13 College of Pharmacy and
Health Sciences Hooding Ceremony, recognizing students graduating with a Doctor
of Pharmacy degree.
"It's very clear to me that the opportunities I had
during pharmacy school wouldn't have been possible anywhere but Drake," Roberts
said. "We have a very progressive academic environment that encourages
innovation and leadership. Plus, I have been able to tap into a very far-reaching
network of influential alumni that are eager to collaborate with Drake pharmacy
students."
Roberts will begin work on his PhD this fall at the
University of North Carolina at Chapel Hill.
"I plan to study the safety and
efficacy of medications in large populations of patients and leverage this
information into forming more effective and equitable health policies," Roberts
said.
Karbeling: Longtime leader and advocate for pharmacy at Drake
Karbeling was the owner of Big Creek Pharmacy in Polk City, Iowa, and
senior vice president for public affairs and corporate development for the Iowa
Pharmacists Association. He was a member of Kappa Psi, a professional leader,
community advocate and strong supporter of Drake's pharmacy program.
The class of 1974 established the Karbeling Memorial Leadership Fund,
which supports the annual award for a student who demonstrates Karbeling's
values and actions including professional involvement, commitment to practice
and political advocacy.
Candidates for the Karbeling Leadership Award are full-time Doctor of
Pharmacy students in their fourth year of the Professional Pharmacy Program
enrolled in the College of Pharmacy and Health Sciences at Drake.
-30-