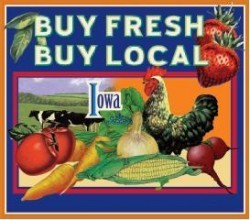 Fresher, juicier, sweeter, crisper — some might argue that, especially in the summer, fresh fruits and vegetables just taste better. And knowing that the produce you're about to sink your teeth into was grown locally makes it all the more delicious.
For Des Moines residents looking for the ultimate in appetizing goods produced locally, Drake's Buy Fresh Buy Local Program (BFBL) publishes a directory of farms, grocers, cooperatives and farmers' markets where individuals can purchase fruits, vegetables, honey, wine, meat, eggs, poultry and dairy products while supporting local producers.
Throughout the summer, BFBL also maintains a presence at the Des Moines Downtown Farmers' Market, publishes a bi-weekly online newsletter and hosts cooking workshops at Kitchen Collage, 430 East Locust St., on the second Saturday of every month.
"Buy Fresh Buy Local continues to bring farmers, business people and eaters together so that we can grow more of what we eat and eat more of what we grow right here in Greater Des Moines," said Matt Russell, state food policy project coordinator for the Drake Law School Agricultural Law Center. Russell has overseen the BFBL campaign for five years.
"The campaign is a great way for Drake to help encourage people to be more mindful about what they eat and how the food effects their health, the health of the community and the health of the land," Russell said. "We're working very hard to diversify the food scene in Greater Des Moines and we're beginning to focus on access for all people."
Dedicated not only to connecting Des Moines with farm-fresh foods, the campaign also provides members of the Drake community with a greater understanding of the practices and politics of agriculture.
"BFBL is a great way for Drake students to gain experience working in the evolving world of local food and agriculture," Russell said. "We've had more than 10 students work with the campaign and numerous volunteers. To engage more people this summer, we'll be using social media asking eaters to share recipes and cooking and preserving secrets."
Allison Condra, who graduated from the Drake Law School in May, said that working with BFBL as a student helped reinforce her views on the importance and value of community access to locally grown food.
"As student workers representing BFBL at farmers' markets, we were resources for people stopping by that were curious in finding local food and getting connected to their farmers," Condra said. "It was a great job — people were really interested in the program and seemed to value having the directory as a resource, and many took the pledge to spend 10% of their weekly food budget on local produce."
Condra added that her experiences with the BFBL program convinced her that increasing local agriculture and food production may be challenging, but hardly impossible.
"It takes a significant amount of dedication, trust and hard work to grow the local agricultural community," she said, "but that is being done thanks to BFBL."
On October 9, BFBL will celebrate the fellowship between farmers, eaters and chefs at a Harvest Party held in Parents Hall in Olmsted Center, 2875 University Ave.
For more information about the event or about volunteering with BFBL, contact Russell at matt.russell@drake.edu or 515-271-4956.
— Stella Hart