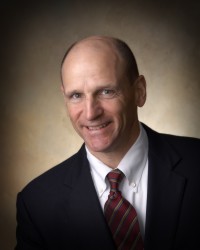 Daniel Jacobi, AS'76, LW'86, vice president for Pioneer Hi-Bred's Asia Pacific, China, Europe, Africa commercial business group.
Daniel Jacobi, AS'76, LW'86, is vice president for Pioneer Hi-Bred's Asia Pacific, China, Europe, Africa commercial business group. In this role, Jacobi is accountable for meeting the objectives of Pioneer's regional and business unit strategic plans, as well as for leading Pioneer's global supply chain competency. While on back-to-back international businesses trips, he answered a few questions about how he came to the position, and what impact a Drake education has had on his intriguing career.
Did you enter law school with the hope of pursuing a career with such an international scope?
Jacobi: Not at all. Like many of my classmates, I entered law school thinking I would become a litigator. I joined a small litigation firm that mainly focused on criminal defense, first as a clerk and then as an associate. Five years later, I joined a family-owned manufacturing, sales and financing company as a one-person legal department. I began to do work there across the board — corporate, labor, sales, finance and real estate matters — and really enjoyed that experience. I developed an interest in international legal issues after the opportunity rose to join Pioneer Hi-Bred. After I became General Counsel at Pioneer and later Associate GC for DuPont's Agriculture & Nutrition business, I had less contact with our international businesses. I was really excited to have to the opportunity to go back and work with those businesses in my new role as Vice President for Asia Pacific, China, Europe and Africa.
What lessons you can share about legal work in the global corporate context?
Jacobi: The key takeaway for me is that legal work in a global context is not so much about how much you know about the law, which can vary in subtle, or not-so-subtle, ways across jurisdictions. Rather, it's about how much you know about your client's business, and how well you can communicate with people from other cultures. The best thing law students and recent alums can do is build a solid foundation for your career during your time in school and in the first years after you graduate: learn your subject matter, and have a diverse, mentored legal experience in your first job. In addition, focus on your listening and communication skills. Many new lawyers feel they need to prove themselves by showing their clients and colleagues how much they know about the law. In reality, most business clients assume you know the law. What they really want to see is that you understand their problem and the business context in which the problem arose. That requires knowing your subject matter and having great listening and communication skills.
Was there any specific experience in Drake law school that helped you define your professional passions or achieve certain early career goals?
Jacobi: I had a number of really great professors at Drake: David Walker, Art Gaudio and Jim Monroe, to name a few. However, I have to say that Bob Hunter was the professor who most taught me how to make a totally unique set of facts and apply an analytical framework to them to understand the legal implications of situation. That approach has been invaluable in dealing with the issues that arise in a global business like Pioneer. It may sound strange, but the class I took with Professor Hunter in Law and the Arts was every bit as helpful in this regard as the classes he taught in Con Law (Constitutional Law) and in Fed Jur (Federal Jurisdiction).
Given your involvement as a Drake Trustee and with United Way, it seems you have taken a leadership role in philanthropy in Des Moines. Has your legal knowledge helped you in your philanthropic endeavors?  
Jacobi: I'm not really sure that I qualify as a leader in philanthropy in Des Moines — there are many, including many of my colleagues at Pioneer — who do much more with their time and leadership than I do. However, my Drake experience has been an essential part of the success I've enjoyed in my career, so I feel lucky to have the opportunity to give back to Drake by serving on the Board of Trustees. I also believe that because of our training, attorneys are uniquely qualified to serve as members of non-profit boards, elected officials and in other volunteer roles.