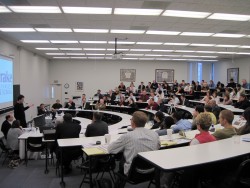 Participants in the Constitutional Law Symposium debated the concept of a "Living Constitution."
Since its ratification more than 220 years ago, the U.S. Constitution has been a subject of spirited debate among legal analysts. This debate continued as scholars from around the country gathered on April 2 for Drake Law School's annual Constitutional Law Symposium.
The symposium, hosted annually by Drake Law School, brings together a prominent array of constitutional scholars, civil libertarians, policy analysts, lawyers and judges to explore a timely constitutional issue. The proceedings are published in the Drake Law Review.
The topic of discussion this year was whether the Constitution should be interpreted as a living document or whether it should be strictly interpreted as it was originally written.
David Strauss, the Gerald Ratner distinguished service professor of law at the University of Chicago Law School and author of "The Living Constitution," argued that the Constitution should be interpreted as a living document using the techniques of the common law.
Several other well-respected legal experts participated in the debate including Keith Whittington, the William Nelson Cromwell Professor of Politics at Princeton University; Rebecca Brown, the Newton Professor of Constitutional Law at the University of Southern California School of Law and Wil Waluchow, the Senator William McMaster Chair in Constitutional Studies at McMaster University.
"Being able to draw nationally known scholars of this caliber is a tremendous benefit for all the attendees," says Drake Law Dean Allan Vestal. "Not only does the dialog during the program stimulate insightful questions, but it also prompts continuing discussions and thought. The scholarship resulting from the symposia is remarkable. Thanks to the Belin McCormick Law Firm, we are celebrating the 10th anniversary of the symposium."
Drake Law School honored the Belin McCormick Law Firm for its continued support of the symposium with a plaque marking the 10th anniversary of the partnership between Belin McCormick and Drake Law School.