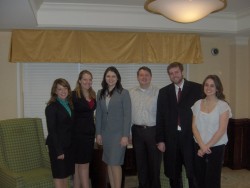 Drake's 2011 Mock Trial team, from left: Laura Mommsen, Erica Liabo, Jasmina Sarajilija, coach Matthew Eslick, AS'02, LW'05, Erik Howe, Ashley Heissel.
The long-standing partnership between the American Mock Trial Association (AMTA) and Drake Law School remains apparent with several alumni active in the organization or assisting with the organization's national finals, recently held in Des Moines and sponsored by Drake Law School and the Belin McCormick law firm.
The 27th annual AMTA Championships brought the top 48 teams from across the country to Des Moines for the final rounds of competition in April.
Matthew Eslick, AS'02, LW'05, an attorney at Nymaster Goode in Des Moines, serves on the AMTA board and assisted with administration of the finals. Emily Anderson, AS'04, LW'07, is co-chair of the Iowa Young Lawyers' Division Mock Trial Committee and aided in judge recruitment.
One of those judges was Tim Semelroth, AS'94, an attorney from Cedar Rapids who was a member of Drake's 1993 national champion mock trial team and later coached Anderson's high school team to a state title.
"Drake provided me with mock trial coaches who were great legal role models and teammates who are among the most talented people I have ever met," says Semelroth. "They all combined to inspire me to hone my trial advocacy to the point that it became my life's work. My time in the Drake mock trial program has served as a foundation for my entire professional career. I still treasure all of the friends I made and the valuable lessons I learned."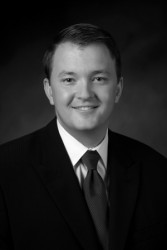 Matthew Eslick, AS'02, LW'05
Eslick competed in the mock trial program throughout his undergraduate years at Drake. He remained active in the program by coaching a team and through membership on the AMTA board of directors.  The program, he says, benefits students in all areas of study, not just lawyers in training.
"Mock Trial emphasizes critical thinking and public speaking skills," says Eslick. "In addition to mastering the procedural and evidentiary nuances primarily of interest to students attending law school, mock trial has broad appeal to students interested in medical school, business endeavors, and journalism. Mock trial is one of the rare activities where the skills learned, honed and perfected are invaluable to a student regardless of the student's career choice."
Drake Law School provided both space and access to faculty members to serve as judges for the 2011 National Finals competition. The event was held in the Neil and Bea Smith Legal Clinic where recent technological upgrades allowed the AMTA to stream the National Championship to a worldwide audience for the first time.
Since its founding in 1985 by Richard Calkins, then dean of Drake Law School, the AMTA has sought to help undergraduate students develop critical thinking and public speaking skills while increasing awareness of legal practices and procedures.
Members of the Drake Undergraduate Mock Trial team earned two individual awards in early rounds of this year's competition, helping the team advance to the final round of the national competition.
"Getting to nationals is what we've been working for all year long," said Kyair Butts, a senior psychology and journalism major and co-captain of the Drake team. "Our hard work paid off. I'm incredibly proud of this team and what they've done."
Junior news-Internet major Greg Boal received one of 10 Outstanding Attorney awards in early competition and Daniel Van Sant, a senior international relations major, received the All ORCS (Opening Round Championship Series) Witness Award for his portrayal of a German toy designer at the fictional company of HappyLand Toy Co., as well as an undercover journalist that investigated the same company.
"I was shocked and thrilled to receive this award because I have been involved in Mock Trial for 11 years and being the top-ranked individual at our ORCS was a great addition to my last year," Van Sant said.
Joint sponsorship of the championship enabled Drake Law School and the Belin McCormick law firm to work more closely together. David Nelmark of the firm served as the tournament director and solicited nearly 300 attorneys to serve as judges, which the law school helped in recruiting.