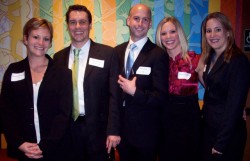 Drake Law School students met and networked with alumni at several events around the Midwest.
About 40 Drake Law students and alumni gathered recently in Chicago and Milwaukee for networking events designed to build connections between the groups and give students a boost in their career searches.
"An out-of-state job search has its challenges, and we host these events to help students make contacts and further their job search strategy," says Trisha Fillbach, director of career services for Drake Law School. "It also happens to be a wonderful opportunity for alumni to meet and network in their area with Drake Law colleagues, and to gain updates about their alma mater."
In addition to the Chicago and Milwaukee events in April, Drake Law hosted a networking event in Minneapolis in the fall. The career services staff organizes events in these areas (and others) because many Drake Law graduates look for work in these areas and because there is already a prominent Drake Law alumni population present.
"We chose these areas because they have traditionally been the most popular areas outside of Des Moines that our students are interested in," Fillbach says. "Depending on interest, in future years we may go elsewhere."