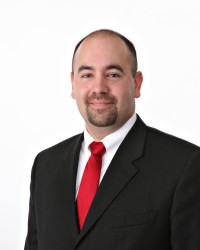 Peter Leo, LW'10
Soon after Peter Leo, LW'10, graduated from Drake Law School, every judge and clerk in the Eighth Circuit Court of Appeals saw his name. Leo's paper, The Case for 'Cramdown:' Eliminating the Practical and Ideological Barriers to Pure Mortgage Modification, was highlighted in the January/February 2011 issue of the 8th Circuit Library newsletter.
The paper, which proposes that judges should be allowed to modify a bankrupt person's mortgage in order to prevent foreclosure, was first published in the University of Miami Business Law Review during the summer of 2010. Leo credits Professor of Law Cathy Mansfield for working closely with him to develop and refine the paper during her consumer protection seminar.
"She provided valuable insight into what parts of my article needed better sourcing, where I could find sources that would be helpful to me, where in the article my writing could be clarified to better communicate an idea to the reader and her ideas on what parts of the article should go into more detail," Leo says. "Ultimately, simply having a professor who has been published provide an objective look at my research and writing was the best guidance along the way."
This relationship between student and professor may seem unique in the Law School environment and it is. But at Drake Law School, this is the norm, rather than the exception.
"It's rewarding for me to be at a school that puts value on the student-teacher relationship," says Mansfield. "This is part of what's expected of me, and I wouldn't want to be at a place where it isn't expected."
After Leo had completed The Case for 'Cramdown,' Mansfield suggested he seek publication. Though most journals had already made their selections, Miami surprised Leo with an offer of publication.
"Because courts have begun to rely less and less upon law review articles in recent years, and because it calls primarily for legislative action rather than judicial action, I was not sure my article would ever influence the courts," Leo says. "I felt very lucky to be contacted by a journal that was interested in the article on its merits and wanted to publish it during the current year."
Leo decided to take the consumer protection seminar after a contracts class during his first year at Drake. Mansfield, who also taught that course, discussed consumer contracts that negated the consumer's ability to pursue legal action in the case of dispute. After the class, Leo reviewed a new bank contract that he and his wife had signed.
"Sure enough, our signatures appeared right next to a provision waiving our right to take the bank to court if we ever had a problem with the account," Leo says. "At that moment, I decided I wanted to take consumer protection the next time it was offered."