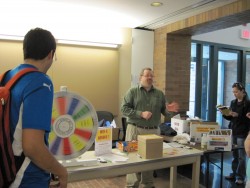 Law students spun a prize wheel and had the opportunity to take home Kindle e-reader.
Drake Law students had a unique opportunity during National Library Week to identify their professor's favorite books and take home a Kindle e–book and other prizes in the process.
First sponsored in 1958, National Library Week is a national observance sponsored by the American Library Association and libraries across the country each April. Drake Law School has been observing the tradition since at least 2001.
"This event is about getting students to come into the library so they can get to know the library staff," says John Edwards, associate dean for information resources and technology and professor of law. "If they know the library and the people who work here better they might not be as intimidated to ask questions."
This year during National Library Week (April 10–16), students spun a wheel for prizes, made donations to assist needy children in Belize and engaged in a contest that required them to match up law professors with their favorite books.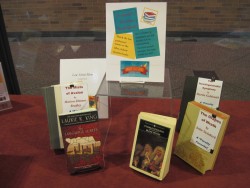 Participating students took home a wide variety of prizes from candy bars and gift certificates to local businesses, to the grand prize of the Kindle e–book.
"With finals just a few weeks away at that point, everyone appreciated having a break," says Edwards. "Even when the conversation remained solely focused on the prize wheel or contest, we think the National Library Week events help underscore the message that library faculty and staff are accessible and here to help."
Staff at the Dwight D. Opperman Law Library can be reached via phone, email, text or in person on site. Please visit www.law.drake.edu/library for a complete list of hours and for further information.