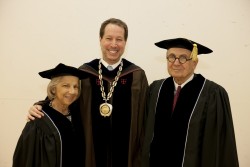 President David Maxwell, center, congratulates Mary and John Pappajohn.
Drake University recently presented honorary doctorates to philanthropists John and Mary Pappajohn for their extraordinary support of educational opportunities, entrepreneurial development and art initiatives, including the Pappajohn Sculpture Park in downtown Des Moines.
"The awarding of an honorary doctorate is the highest honor that a university can bestow, and Drake is proud indeed to grant the Pappajohns this acclaim for their extraordinary contributions to Drake University, to our community, the state and the nation," Drake President David Maxwell said. Maxwell's commencement address is available online.
John Pappajohn, a renowned venture capitalist who financed entrepreneurial centers at five Iowa universities and colleges including Drake, received an honorary Doctor of Business Administration at Drake's Undergraduate Commencement Ceremony on May 14. His wife, Mary, a community leader and ardent supporter of the arts, received an honorary Doctor of Humane Letters.
View an online photo gallery of the ceremony.
"The question is: How did we get here?" John Pappajohn said, noting that he and Mary are children of immigrants who came to America from Greece in a quest to provide a better life for their children and grandchildren.
"Both of our fathers were entrepreneurial and established businesses — my father a grocery story and Mary's father a restaurant and bar — as soon as they were able to save a little money, which was accumulated from manual labor employment, including railroad section work and packing house labor.
"This provided their children the opportunity to attend college — Mary to the University of Minnesota and me to the University of Iowa. Even though none of our four parents had any schooling, they knew the value of education and it was their mantra that 'we must get a college degree.'"
The best of times and the worst of times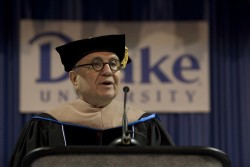 John Pappajohn addresses the graduates.
John Pappajohn's message for the graduates paid homage to Charles Dickens, author of "A Tale of Two Cities."
"These are the best of times and the worst of times," Pappajohn said. "Remember it is always the best of times or the worst of times. Should it really matter? No!
What you do about it determines whether or not you become successful in
whatever challenges that you take on."
The biggest challenge, he said, is to find a job that you really
love. "If you don't," he added, "you won't be happy. If you are not
happy, change! You must love your work to be successful.
"Opportunities today are the greatest that I have ever seen if you
are willing to pay the price and remember it is always the best of times
and the worst of times. Don't complain — just go out and do whatever
you have to do. Remember God gave each of us some special talent. Use
it. Take advantage of it and you will become successful.
"A successful life must include service to others — to society and
to your fellow man — that is how you will be judged. You must try to
make a difference in the world. Learn to give, even when you don't have
much — it makes you feel good . . . You will find the more you give,
the more you make!"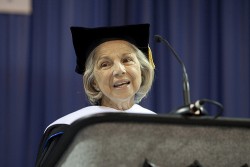 Mary Pappajohn shares her views on philanthropy.
Learn to give when you don't have much money
Mary Pappajohn expanded on her husband's comments about the importance
of philanthropy, saying, "I'm a firm believer that if you don't learn to
give when you don't have
much money, you'll find it difficult to give when you do.
"John and I spend
a great deal of time deciding where our investment will do the most
good," she added. "It's a lot more fun to give away our own money while we're living
than to give someone else the pleasure of doing what we could have done.
To the graduates, congratulations and may all your dreams come true."
Archived copies of Drake's 2011 Commencement Ceremonies are available online for streaming, downloading and podcasting. Apple Quicktime is required to view the archive stream. iTunes is required to download or podcast the files.