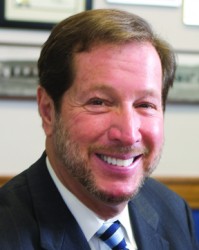 Drake President David Maxwell
Drake University President David Maxwell will maintain a blog about his experiences traveling to Tanzania with the Drake football team.
The trip will include the first American collegiate football game ever held on African soil: the Global Kilimanjaro Bowl on Saturday, May 21. In Arusha, Tanzania, under the shadow of Mount Kilimanjaro, the Drake Bulldogs will play against Mexico's CONADEIP All-Stars.
The teams will not only compete on the football field, but also work together on numerous community service projects in and around the city of Moshi. These include conducting youth football clinics and building a much-needed addition at the Kitaa Hope Orphanage, which provides a home for children orphaned by HIV/AIDS.
During the final six days of the trip, the teams will summit Mount Kilimanjaro, the highest point on the continent of Africa at more than 19,000 feet.
"In my current position as president of Drake, I have a powerful responsibility to demonstrate with my words and deeds what Drake is and the Drake community aspires to be," Maxwell said. "If this trip and all that it entails lives up to my expectations, it will make me better able to serve — it will matter even more that I was here, that there was a purpose for me because of what I was able to do for others."
Drake Head Football Coach Chris Creighton agreed with Maxwell's assessment, describing the trip as "the experience of a lifetime."
"This is more than just football — this is about seeing our world, experiencing our world and, most importantly, giving back to our world," Creighton said.
Several of the team members will also blog about their adventures through Drake and the Des Moines Register. Read more about the trip online.