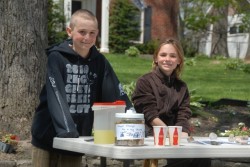 Tristan and Skyelar operate their lemonade stand, which generated $34 from street sales and a $100 donation from a friend and neighbor.
The son and daughter of Drake Athletic Director Sandy Hatfield Clubb and Jeff Clubb have sold lemonade and their own artwork, collected spare change and organized a Jeans Day at their school to raise money for supplies needed by Drake football players to complete community service projects in Tanzania.
Tristan Clubb, 12, and Skyelar Clubb, 9, collected a total of $1,265 through their "Small Change for a Big Change" project, thanks primarily to the generosity of their classmates at Holy Trinity Catholic School. Youngsters contributed spare change and made donations in exchange for the privilege of wearing jeans to class on May 13.
The Clubb children, who exceeded their goal of $1,000, initiated the fundraiser in partnership with Sioux City resident Josh Meyer, 9. Josh is the son of Dr. Steve Meyer, medical director for the Global Kilimanjaro Bowl.
The Kili Bowl will take place Saturday, May 21, in Arusha, Tanzania, when the Drake Bulldogs play the Mexico CONADEIP All-Stars in the first American-style collegiate football game in Africa.
Following the historic game, the student-athletes from both teams will spend three days volunteering in rural Tanzanian villages, then climb to the summit of Mt. Kilimanjaro, the highest point in Africa at 19,341 feet.
The service projects, coordinated by Iowa Resource for International Service (IRIS), an Ames-based nonprofit, include building construction and repairs to orphanages and schools in the area.
IRIS has been working to raise $30,000 to cover the cost of building materials (concrete blocks, mortar, lumber), classroom repair materials (wall plaster, paint and painting supplies) and landscaping materials (trees and other plants) for these volunteer projects.
Anyone who would like to contribute to the Kili Bowl volunteer projects can do so online at www.iris-center.org/KiliBowl.html.
Tristan, Skyelar and their father will be traveling to Tanzania on Tuesday with Drake coaches and football players. Their mother left Sunday to get there early to make sure everything is in order for the game, service projects and mountain climbing.
The children plan to help with the service projects, as well as the football clinics the student-athletes will conduct for Tanzanian youths. They'll also join their parents and the football players on the trek to the summit of Mt. Kilimanjaro, although they'll be limited to climbing to 15,000 feet because of their ages.
"We've promised them that we'll go back when they're older," Sandy Hatfield Clubb said, "so that all of us can reach the summit together."