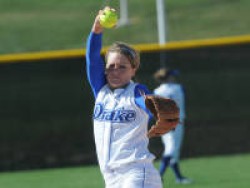 Senior Jenna DeLong
The Drake University softball team fell, 7-4, to host Missouri State in the State Farm Missouri Valley Conference Title Game, Saturday, May 14, at Killian Stadium in Springfield, Mo. The loss put Drake's final season record at 34-21.
Seniors Jenna DeLong (Dalton Gardens, Idaho) and Brynne Dordel (Chanhassen, Minn.) split time in the circle, but neither could figure out Missouri State's momentum-driven offense. The Bears, winners of their fourth game in four days, scored seven runs on 11 hits and an error.
Drake pounded out 12 hits, but stranded 10 runners. Freshman Jordan Gronewold (Carlisle, Iowa) led the Bulldogs with two hits, including her 10th home run of the season. The freshman, along with Dordel and Sam West (Kearney, Mo.) earned all-tournament honors. Dordel's honor was the third of her career and second-straight.
Missouri State loaded the bases with one away in the second, but DeLong escaped unscathed to preserve the scoreless tie. The teams traded scoreless innings until the top of the third, when Missouri State's Stevie Pierce hit a two-run shot to left to put the Bears up 2-0.
Drake answered in the fourth when Gronewold rocked a solo home run to centerfield, her second in as many days.
Missouri State replenished its lead in the fifth, knocking DeLong from the circle and taking a 3-1 lead after five. The Bears put two on with nobody out, sending the 2011 MVC Pitcher of the Year to right field in favor of Friday's winner, Dordel. Dordel issued a walk to load the bases and allowed an RBI single to Missouri State's Heather Duckworth before ending the inning with the bases full of Bears.
Missouri State blew open the game in the sixth, plating four runs on four hits to take a 7-1 lead. Drake responded with two runs on the sixth and another in the seventh to put the final score at 7-4 in favor of the Missouri State.
Seniors Erin Mollohan (Tinley Park, Ill.), Molly McClelland (West Des Moines, Iowa) DeLong and Dordel logged their final contest in Drake Blue. McClelland, Mollohan and DeLong combined for five hits on the day.
"I get emotional talking about this group," head coach Rich Calvert said on Friday. "They really, truly care about each other and they're some of the best kids I've coached in my 24 years."