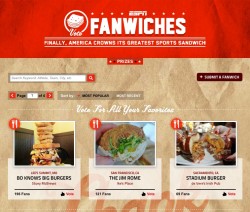 Two former Drake University athletes, Masters Champion Zach Johnson and 2007-08 "Cinderella season" basketball MVP Adam Emmenecker, are in the same ESPN bracket this summer. The competition? Sandwiches, not sports.
ESPN recently launched a "Fanwich" contest, highlighting dishes from across the country that are named after or inspired by athletes. Both the "Zach Johnson No. 3 Hoagie" from Manhattan Deli, 3705 Ingersoll Ave., and "The Adam Emmenecker Challenge" from Jethro's BBQ, 3100 Forest Ave. (recently featured on the Travel Channel's "Manv. Food" program) are on the tasty roster.
"Drake is excited to have two of our accomplished athletes share the sandwich spotlight," said Athletic Director Sandy Hatfield Clubb. "This is a fun opportunity for fans and alumni all over the country."
Bulldog fans need not split their loyalties between Johnson's Manhattan Deli Hoagie (ham, hard salami, pepperoni, provolone and hot pepper cheese, lettuce, tomato, onion, mayo and oil dressing) and Jethro's five-pound Emmenecker Challenge (a huge pork tenderloin, add our Angus steak burger, layered with slabs of Texas brisket, apple wood bacon and fried cheese, finished with buffalo chicken tenders, smothered in melted cheddar cheese and white cheddar sauce, topped with a spicy pickle). It's possible to vote multiple times for any of ESPN's "Fanwiches."
The sandwich smackdown also showcases a Boston peanut butter and jelly sandwich named after Kevin Garnett, which looks minor league compared to the Des Moines options. On the other hand, the colossal "Bo Knows Big Burgers," named for Bo Jackson of the Kansas City Royals and served at Stuey McBrews in Lee's Summit, Mo., is a contender. Incorporating four pieces of Texas toast, three half-pound burgers, six strips of bacon, a fried egg, American, cheddar and pepperjack cheese, and garnished with onion, lettuce, pickle, tomato, ketchup, mustard and mayo topped with a tower of six onion rings, it could probably feed an entire team.
Fans may vote for both Drake athlete inspired sandwiches via Facebook, at http://apps.facebook.com/espn_fanwiches/sandwiches/details/id/24.