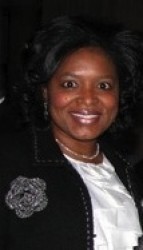 Romonda D. Belcher
Polk County District Associate Judge Romonda D. Belcher, a 1995 Drake Law School graduate, will deliver the keynote address at the Drake University Law School Commencement Ceremony, which begins at 7 p.m. Friday, May 13, in the Drake Knapp Center, 2525 Forest Ave.
Belcher was a veteran prosecutor in the Polk County Attorney's Office before she was appointed as Iowa's first female African-American judge this past September.
Her commencement address, which is titled "Having IT, Defined," will explore what "it" is and what "it" is not. For example, Belcher said "it" consists of the attributes that really matter, such as "justice, honor, selflessness and patience," rather than less important things such as "class rank, income, what you have, where you live and so on."
The commencement ceremony will be preceded by a formal procession of law students and faculty to the Drake Knapp Center from Opperman Hall and Law Library. A bagpiper will lead the procession. Following the ceremony, there will be a reception for graduates and their guests at Parents Hall in Olmsted Center, 2875 University Ave.
Judge Belcher offers a role model for 2011 graduates
Belcher credits Drake Law School with providing her with the practical training necessary to prepare her for a successful legal career.
"Drake Law School is a phenomenal law school," she said. "I received the training I needed, and it was easy to transition to the practice of law."
As a student, she gained professional experience through the Drake Legal Clinic and a clerkship with then Iowa Supreme Court Justice Louis Lavorato, who earned his bachelor's degree from Drake in 1959 and his Drake law degree in 1962. She also served as an intern with the Polk County Attorney's Office and the Parrish Kruidenier law firm.
"Since her first days at Drake, Romonda stood out in my mind as a hardworking, focused, principled person who had backbone, courage and grace," said David Walker, former dean of the Drake Law School. "I knew from the get-go she wanted to be a judge someday, which isn't a few short steps from the commencement podium."
Prior to her appointment to Iowa's fifth-district court, Belcher worked for 15 years as an attorney with Polk County and the Department of Human Services. She has served as mediator for the Volunteer Lawyers Project and as project coordinator for the Iowa National Bar Association's "A Monumental Journey" public art project.
She also is renowned for bringing historic civil rights figures to life in one-woman performances in the Des Moines area. Among the figures she portrays are Iowa civil rights pioneers Edna Griffin, Evelyn Davis and Gertrude Rush, as well as national historic figures such as Rosa Parks, Harriet Tubman and Sojourner Truth.
Before attending Drake Law School, Belcher earned her bachelor's degree from Howard University.