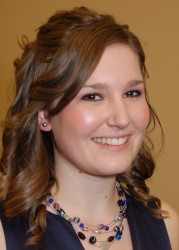 Samantha Haas.
Drake University Student Body President Samantha Haas recently received the Oreon E. Scott Award in recognition of her excellence in scholarship, leadership, service and involvement. This prestigious award is presented annually to the outstanding senior at Drake.
"This was a wonderful surprise," Haas said. "I feel honored to have been selected out of a group of so many qualified and dedicated students."
As the recipient of the award, Haas will be one of the featured speakers at the 130th Undergraduate Commencement Ceremony at 10 a.m. Saturday, May 14, at the Drake Knapp Center, 2525 Forest Ave.
Haas, a senior environmental science and chemistry double major from Algona, Iowa, is the daughter of Sue and Howard Haas. She is a graduate of Algona High School.
In addition to holding the office of student body president, Haas also serves as co-president of Colleges Against Cancer. She is a Donald V. Adams Leadership Academy graduate, Emerging Leaders Model mentor and a member of the Delta Gamma sorority.
Haas has received the E.A. Sheslow Prize for Distinguished Leadership and has been named a Top Student every year while at Drake. She has also served as a chemistry research assistant to Associate Professor of Chemistry Mark Vitha, resident assistant for Crawford Hall and assistant residence hall coordinator for Ross Hall.
"Not only have my academic studies at Drake been challenging and rewarding," Haas said, "but I have also been given opportunities to develop problem solving and leadership skills through my experiences on campus."
After graduating in May, Haas plans to teach high school students in Milwaukee, Wis., as part of the Teach for America Program.
The Oreon E. Scott Award is named after a former Drake governing board member who turned his success as a St. Louis real estate businessman into a lifetime of philanthropy for the Disciples of Christ Church, which founded Drake in 1881. Drake has presented the award annually since 1949.