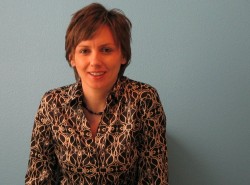 At the School of Education, Professor Bengu Erguner-Tekinalp, PhD. is an Assistant Professor in the Counselor Education Program. She and two counseling
students, Elma Dervisevic and Riley Drake, will present "The Refugee Experience and the Counselor's Role" at the 2011 Annual Iowa Mental Health Counseling Association's Conference, tomorrow, Thursday May 12th.
In addition, she and Professor Wade Leuwerke co-authored "Career Development Outcomes: Variables and Instruments Across the College Experience" for Students in Transition: Research and Practice in Career Development [University of South Carolina Press, 2011]. She also co-authored "Photovoice: Understanding Social Privilege" with Amney Harper for Experiential Activities for Teaching Multicultural Competence in Counseling. Looking forward, Erguner-Tekinalp recently received approval for sabbatical leave for Spring 2012, during which she will be a visiting professor at Zirve University in Gaziantep, Turkey.