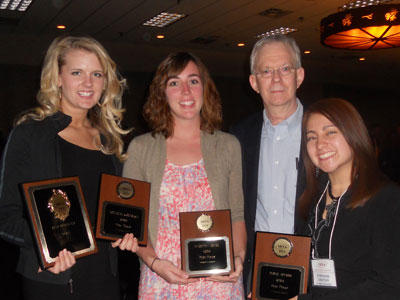 Four Drake Broadcast News students received five first-place radio news contest awards from the Iowa Broadcast News Association at the group's annual convention May 2 in Johnston.
First-semester senior Ciera Lundgren won first place for both Newscast and Political Coverage. Wrote the judge for Lundgren's "Judicial Retention Aftermath" story, "Most large market stations don't present an issue as compellingly or thoughtfully."
Junior Stephanie Sanyour won first place for her Public Affairs story about the Four Loco alcohol drink. "Your production quality is high and the topic is gripping," wrote the out-of-state judge.
Junior Kayleigh McCullough won the Depth category for her story about obesity in Iowa, while junior Austin ("AJ") Harrison won first place Feature about Drake's "D Song" and the fact few sports followers know its words ("Funny," said the contest judge) and second place for Play-by-Play ("The level of excitement matched the game").
The 4-minute story entries were "At Issue" fall semester assignments for Radio News JMC73 and aired on 94-1 The Dog during Final Week.