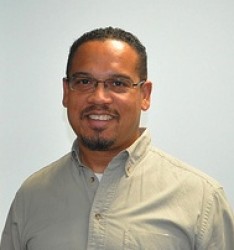 Keith Ellison
U.S. Rep. Keith Ellison, congressman from Minnesota's fifth district and the first Muslim elected to the U.S. Congress, will lead a discussion on the misconceptions of Islam in America after 9/11.
The event, which is free and open to the public, will take place Friday, April 29, at 7 p.m. in Bulldog Theater, Olmsted Center, 2875 University Ave.
After the events of 9/11, some American perceptions of the overall philosophy of Islam turned in a negative direction. In March, the United States House Homeland Security Committee held controversial hearings on the threat of al-Qaida affiliates training radical Muslims in America.
Congressman Ellison testified at the hearings and expressed his understanding for the need to look into religious radicalization, but also his concern about targeting a religious minority in this investigation.
The congressman attended Wayne State University in Detroit and later graduated from the University of Minnesota Law School. He served in the Minnesota legislature from 2002-2004, and was elected to the U.S. House of Representatives in 2006. His district encompasses most of the Minneapolis area.
The Drake University Muslim Student Association (MSA) is sponsoring this event. Isaiah Ellison, the congressman's son, is a senior politics major at Drake and a member of the group.
"After 9/11, there were many misconceptions about our religion," said Rizmel Dato Abdul Malik, one of the MSA members who organized the lecture. "Congressman Ellison is looking forward to speaking with the Drake community about these damaging misconceptions, as well as the serious implications they have on our society."
For more information, please contact Rizmel Nazrin; rizmel.datoabdulmalik@drake.edu, or visit the MSA Facebook invite page.


Congressman Ellison to lecture on "Misconceptions of Islam after 9/11"

Congressman Keith Ellison will speak about the impact the past decade's religious misconceptions about Islam have had on Muslims, the country and our society as whole.

When: 7 p.m. Friday, April 29

Where: Bulldog Theater, Olmsted Center, 2875 University Ave.

Cost: Free and open to the public.