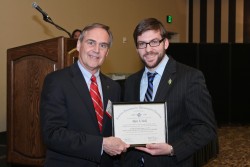 Robert M. Bachman, president of the AFPE, presents Ben Urick with the award.
Ben Urick, a fourth-year student in the professional pharmacy program at Drake University, was recently awarded the 2011 Phi Lambda Sigma-American Foundation for Pharmaceutical Education (AFPE) First-Year Graduate Scholarship.
Urick, of Geneseo, Ill., was presented with the $7500 scholarship last month at the Phi Lambda Sigma Awards Reception during the American Pharmacists Association Annual Meeting in Seattle.
"I was stunned and thrilled when I read the email congratulating me on receiving the scholarship," said Urick. "I knew that I had a competitive application, but I still did not expect to be chosen for this honor."
The AFPE is a national organization dedicated to the advancement and support of pharmaceutical sciences education in U.S. schools and colleges of pharmacy. The organization provides funding for first-year graduate school fellowships and pharmacy faculty development research grants.
Following his graduation from Drake on May 14, Urick plans to pursue a doctorate in pharmaceutical socioeconomics at the University of Iowa, where he has received a Presidential Fellowship.
"Drake has done an excellent job in preparing me for post-PharmD graduate work," Urick said. "As a doctoral student, I will be expected to take on leadership roles, and I know that this will not be a problem based on the preparation I have had at Drake. I look forward to giving back to Drake as an alumnus and watching the University and the College of Pharmacy and Health Sciences continue to grow and thrive."
While at the University, Urick served as a College of Pharmacy and Health Sciences Senator, a policy intern for Iowa Senator Jack Hatch, a student trustee for the Iowa Pharmacy Association, a member of the Dean's Student Advisory Council, fundraising chair for Phi Delta Chi professional pharmacy fraternity and chair of the Health Fair Implementation Committee.
He also served as alumni relations officer for Phi Mu Alpha Sinfonia, Drake's professional music fraternity. Urick played trombone in Drake's Concert Band, Bulldog Brass, Marching Band and Jazz Ensemble Two, and appeared in costume as mascot Spike the Bulldog at numerous athletics events.