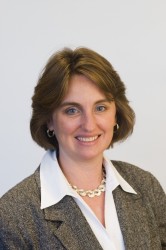 Christa Lee Olson
Christa Lee Olson, associate director of international initiatives at
the American Council of Education (ACE), has been named vice provost for
international programs at Drake University, effective July 25. This new
position was created as part of the Drake's Internationalization
Strategic Plan.
Olson, who holds a Ph.D. in French literature from Stanford
University and a bachelor's degree in foreign languages from Washington
State University, was a faculty member at New Jersey City University
before joining ACE in 2001.
Since then, she has directed several of ACE's initiatives to engage
1,600 member institutions of higher education in internationalization
and global engagement. Based in Washington, D.C., ACE is the major
coordinating body for all the nation's higher education institutions.
Drake President David Maxwell serves on ACE's board of directors.
At Drake, Olson will be responsible for international initiatives,
including implementation of the Internationalization Strategic Plan. The
plan calls for Drake to fulfill its mission of producing responsible
global citizens by recruiting more international students, faculty and
staff, expanding faculty exchanges, internationalizing the curriculum
and increasing access to study-abroad programs.
"Drake is fortunate to have attracted Dr. Olson, because she is a
recognized expert in international education," said Provost Michael J.
Renner. "In addition to her history as a faculty member, she has served
in a leading role in internationalization at the American Council of
Education for the past decade. She is exactly the right person to
coordinate Drake's efforts to implement the new Internationalization
Strategic Plan, and we're very excited that she'll be joining us this
summer."
Olson said she is looking forward to working at Drake, where she will also have an appointment as a professor in the Study of Culture and Society Department, pending approval by the University's Board of Trustees.
"With an internationally engaged president, a strong team of
international education professionals, numerous faculty champions, a
clearly articulated commitment to educating global citizens, an
excellent internationalization plan for moving forward and visible
support from the wider Des Moines community, Drake is well positioned
for great work in the global arena," Olson said. "I am delighted to join
the Drake community and to contribute my vision, passion and expertise
to the next chapter of this journey."
Olson will be moving to Des Moines from Northern Virginia along with
her husband, Kent Kroeger, a native of Cedar Falls, Iowa, and their
5-year-old son, Zachary.