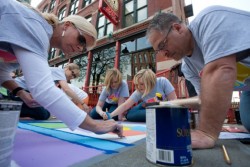 Children's Cancer Connection staff paint a square at the 2010 Downtown Street Painting
Drake University's new tradition of expanding Relays street painting festivities downtown is back for a second year. Paintbrushes are poised for Downtown Street Painting, set to take place on Wednesday, April 27 from Noon to 4:30 p.m. on Court Avenue.
Drake is partnering with the City of Des Moines and the Court Avenue District for the second year to host the festive Downtown Street Painting event on the sidewalks between Third and Fourth streets.
Street painting has long been a rite of spring during Drake Relays celebrations on campus, as student organizations gather each April to paint a closed-off section of Carpenter Avenue. The downtown version is quickly becoming popular with organizations that want to get noticed.
"We were interested in participating with last year's Downtown Street Painting because it gave Children's Cancer Connection a unique way to market our organization," said Emily Beckmann, director of marketing and communication for the nonprofit organization Children's Cancer Connection.
Beckmann said her organization has received plenty of positive feedback as a result of its square over the past year and that they're excited to participate again.



"To this day, our square is still visible to anyone who walks the streets of downtown Des Moines." she said. "It's almost like purchasing a long-lasting advertisement in a prime location at a great price. Honestly, how can you beat that?"
Each organization participating in Downtown Street Painting will have the opportunity to paint a 4-foot by 4-foot square of sidewalk incorporating this year's theme: "Tradition. Passion. Excellence."
Up to five painters are permitted per organization. A panel of judges will review the painted squares. Winners will receive a gift pack from Drake University.
Each square will remain on display throughout the year and will be viewed by the thousands of individuals who enjoy the Downtown Farmers' market, as well as the many restaurants, businesses and other activities present on Court Avenue.
Find info on other Drake Relays community, student, alumni and athletic events: America's Athletic Classic