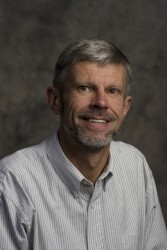 Klaus Bartschat
Drake University recently selected Klaus Bartschat, the Ellis and Nelle Levitt professor of physics in the Department of Physics and Astronomy, as the Ronald Troyer Research Fellow for 2011-12.
The fellowship was created in 2010 to recognize Ronald Troyer, who served as the University's chief academic officer for nine years. Troyer is currently senior counselor for international initiatives at Drake.
"The fellowship honors Dr. Troyer's lifetime of contributions to the University's climate of scholarship by recognizing the ongoing research accomplishments of one of our faculty members," said Drake Provost Michael J. Renner.
"Klaus sets a wonderful example as an engaged teacher-scholar," Renner added. "Drake's students are very lucky to have the opportunity to work with Dr. Bartschat on fundamental science."
Bartschat, who began his career at Drake in 1987 as a visiting assistant professor, is known for his work in theoretical and computational physics "" particularly in the area of atomic, molecular and optical physics. He offers many opportunities for research participation by undergraduates, who often become co-authors on his publications and present their work at international conferences.
"During his time as dean of Arts and Sciences and especially as provost, Ron Troyer was extremely supportive of my research," Bartschat said. "He made significant matching funds available for my grant proposals to the National Science Foundation, and I am sure that these commitments were critical in building my group over the years, as well as acquiring the necessary computer equipment. Receiving the Troyer Research Fellowship means that Ron's support will continue even beyond his time as provost. I feel honored to now have his name formally associated with my research."
The Ronald Troyer Research Fellowship Endowment Fund, sponsored by Drake's Board of Trustees, supports the ongoing collaboration with students and his research. A $5,000 stipend will cover one year of research-related expenses, including support of research assistants, equipment, travel and materials.



"These funds will be used to support travel of the entire group to the most important annual conference in our field: the June meeting of the Division of Atomic, Molecular, and Optical Physics of the American Physical Society," Bartschat said.
Participation at this and other conferences is critical for his team to not only present their results, but also to make or maintain personal contacts that will help open up future opportunities for his collaborators, especially the Drake students in their preparation for and selection of graduate programs.
Bartschat also works internationally in extended collaborations with research groups in Europe and Australia. He receives grant support through the United States National Science Foundation and the National Institute for Computing Sciences. Bartschat holds a doctorate in theoretical physics and the habilitation, the highest academic qualification a scholar can achieve by his or her own pursuit, in physics from The University of Münster in Germany.