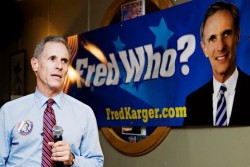 Fred Karger
Presidential candidate Fred Karger will hold two free, public events on the Drake University campus on Tuesday, April 26. The native Californian declared his candidacy for the presidency earlier this month, based upon a long career as a political consultant and LGBT rights activist. The self-identified Independent Republican will meet with Drake students and members of the community at two events:

8 a.m. Tuesday, April 26: Karger will meet with students in Professor John Todsen's Presidential Popularity class in Medbury Honors Lounge, 2730 Forest Ave.
1 p.m. Tuesday, April 26: Karger will hold a meet and greet at Pomerantz Stage in the Olmsted Center, 2875 University Ave.
Please contact Professor Rachel Paine Caufield in the Department of Politics and International Relations with questions: 515-271-1924 or Rachel.caufield@drake.edu
Drake University is committed to an open and productive exchange of ideas, allowing free and informed discussion of political affairs. As a tax-exempt educational institution, Drake University does not endorse or oppose any party or candidate for public office.
For more information about Karger, please visit the candidate's website at http://fredkarger.com/.