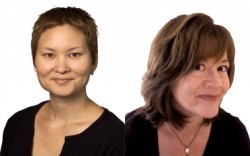 Jennifer Perrine and Carol Spaulding-Kruse
"Imagination as Inquiry: The Role of Research in Creative Writing" will be the topic of the final presentation in the spring Humanities Colloquium Series at Drake University on Friday, April 22.



Carol Spaulding-Kruse, associate professor of English, and Jennifer Perrine, assistant professor of English, will give the presentation, which will start at 3:30 p.m. in the Honors Lounge of Medbury Hall, 2730 Forest Ave. The event is free and open to the public.



In their talk, Spaulding-Kruse and Perrine will consider how inquiry or research informs the imaginative process of writing fiction and poetry. They ask, for instance, what knowing is for the writer of a poem or story, and what the role of writing might be in the process of understanding.



They will give short readings from their own creative writings and comment on how they do and use research in this work.



In addition, they will take up questions such as:

What are the writer's sources?
How does the writer use sources responsibly, and to what end?
In the absence of argument, how does a writer know when research for a poem or story is sufficient?
Is there a poetics of inquiry?
Spaulding-Kruse teaches creative writing, prose stylistics, ethnic American literature, service writing, and coordinates writing internships. Her published fiction reflects research on her own Korean heritage and California history, and her new novel, "27 rue de Fleurus," draws on the life and work of Gertrude Stein.



Perrine teaches creative writing, gender studies, queer theories and Holocaust studies. Her primary writing is poetry, which is informed by research in natural history, religion, and visual art. Her new collection, "In the Human Zoo," is forthcoming in May.
The Humanities Colloquium Series features Drake faculty members who offer insights into their current research in the humanities. For more information about the series, contact Joseph Schneider, director of the Drake Center for the Humanities, at 515-271-2158 or joseph.schneider@drake.edu.