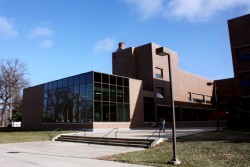 The Patty and Fred Turner Jazz Center at Drake University.
Drake staff, alumni, jazz students and faculty gathered this past weekend to celebrate the opening of the Patty and Fred Turner Center, the University's new home for jazz education.
More than 100 guests attended the gala. The two-day celebration featured an alumni jazz reunion jam session, an afternoon ribbon cutting ceremony and an evening concert performed by Drake Jazz Ensemble One and the newly formed Drake Alumni Jazz Band. Photos of the events can be viewed online.
Fred Turner was unable to attend the gala due to illness. His daughters, Teri Turner-Hartman and Paula Grasso, participated in the ribbon cutting ceremony and attended the evening concert.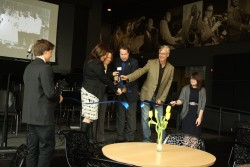 The ribbon-cutting ceremony served as the official dedication of the Turner Center.
"This gala was our chance to celebrate an incredible new facility
and thank the Turners for all of their support of Drake's jazz program,"
said saxophonist Stella Hart, a junior English and music double major
from Cedar Rapids, Iowa. "There aren't words to express how grateful all
of the students are; we used our music to convey our appreciation."
Devin van Holsteijn, a saxophonist and sophomore music business
major from Spencer, Iowa, said that the Turner Center has become an
invaluable and inspiring learning facility for students.
"The Turner family's contributions to Drake's jazz program have
created many opportunities for students and enriched our college
experiences in numerous ways," said van Holsteijn, who serves as student
general manager of the Turner Center. "Besides being a great place to
perform and rehearse, the center has provided students with the chance
to learn the business management and recording skills necessary to
running a successful jazz venue."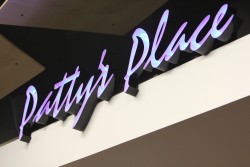 "Patty's Place," a 70-seat jazz club, provides a venue for performances by Drake ensembles, touring professional musicians and local jazz groups.
Drake alumnus Fred Turner, retired senior chairman of McDonald's Corp., provided Drake's jazz program with a $1.5 million gift to build the Turner Jazz Center.
Completed in December, the facility includes a state-of-the-art 40-channel recording studio, a sound booth and an isolation room. The center also includes Patty's Place, a 70-seat jazz club named after Turner's late wife and Drake alumna Patty. Patty's Place provides a venue for jazz performances by Drake ensembles, touring professional musicians and local jazz groups.
In 2008, Turner endowed the Fred and Patty Turner Professor of Jazz Studies. Andrew Classen, the inaugural holder of the title, directs Drake Jazz Ensemble One.
"Our vision for the Turner Center was for it to be a multi-purpose facility and jazz club," Classen said. "Not only has the Turner family contributed to the enhancement of student experience here at Drake, but this facility promises to be a musical and educational focal point for the entire community."
At the gala, Drake Jazz Ensemble One performed nine tunes, including two pieces composed by Classen.
The first, "Blues for Jimmy," was dedicated to Drake President David Maxwell's late father, legendary trumpeter Jimmy Maxwell. President Maxwell joined the band to perform a blues guitar solo.
Classen's other composition, titled "The Gospel According to Patty," was written to honor the memory of Patty Turner, a talented musician noted for her love of music and her extensive philanthropic work. Fred and Patty Turner met as students at Drake in the 1950s.
Read more about the Patty and Fred Turner Jazz Center online.
Drake jazz alumni called to stage for encore performance
The opening and dedication of the Turner Center provided an opportunity for Drake jazz alumni to reconnect with old friends and reassemble their instruments.
A reunion and jam session was held on Friday night. On Saturday, approximately 30 alumni rehearsed as a big band and, under the direction of Classen, performed three tunes to open that evening's concert.
Participants ranged in age from the newly graduated to alumni who played in Drake's jazz ensembles in the 1960s.
"Everyone seemed to really enjoy being back on campus," said Nancy Strutzenberg, Drake's development events coordinator. "The alumni were also excited to play in the new Turner Center facility. This reunion was wildly successful, and we look forward to hosting future jazz reunions."