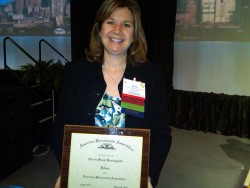 Carrie Foust Koenigsfeld
Drake University College of Pharmacy and Health Sciences Associate Professor Carrie Foust Koenigsfeld was recently selected as a 2011 Fellow of the American Pharmacists Association Academy of Pharmacy Practice and Management (APhA-APPM). Koenigsfeld, an associate professor in the Clinical Sciences Department, has primarily been involved in the development of ambulatory care services in the community pharmacy and clinic based setting.



Candidates for APhA Fellow must have at least 10 years of experience and achievements in professional pharmacy practice and outstanding service in the profession through activities in APhA and other organizations. Koenigsfeld was recognized at the APhA Annual Meeting and Exposition in Seattle, Wash., March 25-28, 2011.
Koenigsfeld joined the Drake CPHS faculty after completing a residency at the University of Iowa in community practice. Early in her career at Drake, she successfully implemented community practice rotation sites with Osco Drug, and assisted with the development and implementation of pharmacist-run patient care services as Director of Patient Care Centers for Walgreens in the Des Moines area.
Dr. Koenigsfeld's work continues to be both innovative and entrepreneurial. Her practice shifted in 2005 as she became the first clinical pharmacist at West Des Moines' Lakeview Internal Medicine Clinic. There she works with physicians and students to create and provide a pharmacist-run anticoagulation clinic, smoking cessation services, diabetes education, drug information, and general medication reviews for their patients.
The CPHS Hartig Faculty Development Award for 2011 was presented to Dr. Koenigsfeld during the recent Pharmacy and Health Sciences Day. She supports the College of Pharmacy and Health Sciences as the APhA-ASP Faculty Co-Advisor, a Clinical Science Department faculty mentor, and a member of the DELTA Rx Institute. Within the American Pharmacist Association, she currently serves as National Faculty for the APhA Immunization Certificate Training Program and the APhA Lipid Management Certificate Training program.
Koenigsfeld's accomplishment as APhA Fellow joins that of professor Linda Krypel, honored in 2006-2007 and professor John Rovers, honored in 2007-08.