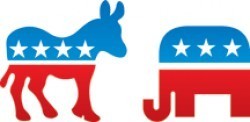 Two Drake University faculty members will join other political analysts from the states that lead the nation's presidential nominating process during a forum Wednesday, April 13, on the Iowa State University campus in Ames. The analysts will discuss President Obama's first term and the 2012 election.
The forum, which is free and open to the public, will take place from 7 to 9 p.m. in the auditorium of ISU's Curtiss Hall. Ben Kieffer, host of "The Exchange" on Iowa Public Radio, will moderate the discussion. The forum will be recorded and broadcast at noon Friday, April 15, on "The Exchange" at 640 WOI-AM.
The Drake faculty members speaking at the forum will be Dennis Goldford, professor of politics, and Rachel Paine Caufield, associate professor of politics. Other political experts joining in the forum will be:
* Arnie Arnesen, a New Hampshire political analyst and former gubernatorial candidate

* Steffen Schmidt, political science professor at Iowa State University

* Donna Hoffman, chair of the Political Science Department at the University of Northern Iowa

* Wayne Moyers, professor of political science at Grinnell College

* Bruce Nesmith, chair of political science at Coe College
They will discuss some of the most interesting political questions facing democrats and republicans in 2012. The audience will be encouraged to join in the discussion.
Sponsors of the forum include Iowa State University's Political Science Department and Committee on Lectures (funded by GSB), SEAS LLC Consulting and Iowa Public Radio.
Iowa Public Radio informs, enriches and engages Iowans through radio programming and other media. IPR enhances civic and cultural connections across the state, strengthening communities and reflecting Iowa's sense of place. For more information about this event or any of Iowa Public Radio's programming, call 515-725-1700.