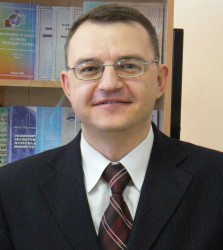 Igor Dubina
Igor Dubina, visiting Fulbright scholar at George Washington University School of Business, will deliver a lecture at Drake University on "Innovation and Entrepreneurship Across Cultures" on Monday, April 11.
The lecture, which is free and open to the public, will begin at 7 p.m. in Bulldog Theater, Olmsted Center, 2875 University Ave.
The lecture will focus on the impact of national culture on innovative and entrepreneurial activity based on a review of over 200 cross-cultural studies on inventiveness, innovation and business practices.
Dubina serves as associate professor of economic information systems and post-doctoral scholar at the Department of Theoretical Cybernetics and Applied Mathematics at Altai State University in Siberia, Russia.
He received his bachelor's and master's degrees from Altai State Agricultural University in Barnaul, Russia, and his doctorate from Omsk State University in Omsk, Russia.
Dubina, who is the author of seven books on creative decision solving and mathematical methods for social and economic research, received the 2008 National Education Support Foundation Award. He is also a twice-honored laureate of Russia's National Textbook Contest.
This lecture is presented as part of The Center for Global Citizenship (CGC) spring 2011 "Global Perspectives" series at Drake. The series aims to bring international scholars from a variety of disciplinary backgrounds — including law, business, political science, sociology and agronomy — to the University.
"This series is special because it allows us to step beyond usual U.S. perspectives on the rest of the world, truly advancing our ability to understand the world as global citizens," said CGC Interim Director Darcie Vandegrift.


Fulbright scholar to deliver lecture on innovation and entrepreneurship across cultures

The lecture will focus on the impact of national culture on innovative and entrepreneurial activity.

When: Monday, April 11 at 7 p.m.

Where: Bulldog Theater, Olmsted Center, 2875 University Ave.

Cost: Free and open to the public.

Info: drake.edu/international/cgc