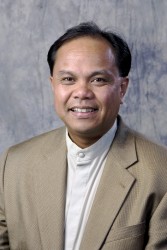 Clarence Padilla
Clarence Padilla, professor of clarinet and chair of the Music Department at Drake University, has been appointed music director and conductor of the new Des Moines Metro Concert Band, central Iowa's only professional concert band.
The Des Moines Metro Concert Band will be the featured ensemble for three performances at Music Under The Stars, which opens its 65th season Sunday evening, June 12, on the west grounds of the State Capitol. These concerts are free and open to the public.
In a state known for its heritage of band music and outstanding music education programs, the Des Moines Metro Concert Band is the only professional concert band. Plus, it is accessible to all citizens regardless of income.
Padilla, a member of the Des Moines Symphony Orchestra since 2000, has performed recitals and clinics in the United States, Europe, China and Mexico. He has performed with a highly varied group of artists, including Yo-Yo Ma, Itzhak Perlman, Joshua Bell, Sarah Chang, Midori, Ray Charles, Pat Boone, Marilyn McCoo, Amy Grant, Simon Estes, The Manhattan Transfer, Roger Williams, Patrick Stewart, Lee Greenwood, as well as conductors Michael Tilson Thomas and Lukas Foss.
He has recorded for the Disney Company Entertainment Division and Touchstone Pictures. Padilla has conducted the Drake Wind Symphony and Drake Symphony Orchestra, and has also served as principal clarinet for California's Laguna Beach Festival of the Arts Orchestra and the Long Beach Municipal Band.



In 2010, Padilla released his second solo compact disc recording, titled "With the Wind." The album includes the music of Graham Lyons, William Dougherty, Drake's Ellis and Nelle Levitt professor of music theory and composition, Bill Liston, Ralph Kendrick and Alec Templeton.
Padilla also is a featured soloist on the Drake University Wind Symphony compact disc recording titled "Collage," which was released in 2009. Padilla released his first solo compact disc recording in 2002. The recording, titled "Playing Through," received a favorable review in The Clarinet, a quarterly publication of the International Clarinet Association.
Padilla holds a Bachelor of Music degree from California State University, Long Beach, a Master of Music degree in clarinet performance from the University of Southern California and has pursued doctoral studies in clarinet performance at USC, where he was a student of Mitchell Lurie and David Shifrin. Padilla has also studied with Robert Marcellus, David Atkins, Thomas Hill, James Kanter and Virginia Wright.