Five senior art and design students will cap their educational careers at Drake University with a thesis exhibition opening April 8. The exhibit, titled "Resonance," will showcase art that reflects the nature of resonance (the reverberation of sound) and how it evokes memories, emotions and suggests images for each artist. The exhibition will also display the processes by which the respective artists create resonance in artwork.
"Resonance" will be held in conjunction with senior painting major Rachel Crown's thesis exhibition, titled "Prose," which will show on the second floor of Harmon Fine Arts Center in the Weeks Gallery. Both exhibits are free and open to the public.
The student artists, all originally from the Midwest, will show a mixture of graphic design, painting, sculpture, drawing, and printmaking work in this senior thesis exhibit. The exhibit opens 5 "" 7 p.m. Friday, April 8, in the Anderson Gallery of the Harmon Fine Arts Center, 2505 Carpenter Ave. Refreshments will complement the exhibit opening event.
The Anderson Gallery is open Tuesday through Sunday 12 "" 4 p.m. and
by appointment. The Weeks Gallery is open during regular building hours
of 8 a.m. "" 5 p.m. The exhibition closes April 22.
Each of the artists exhibiting work in "Resonance" takes a different approach to the theme: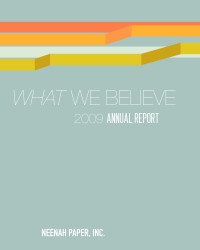 Neenah Paper Annual Report, Hannah Bloom
"I strive to create unique solutions in my design and studio work by incorporating my diverse skills, experiences, and strong aesthetic sense," says Hannah Boom, a graphic design and art history double major from Manchester, Iowa. "My goal is to achieve communication and promote interaction with my audience through the usability and accessibility of my work."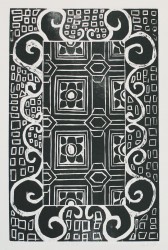 Travel Tiles, Hannah Hoffman
"Design is a visual form of communication that can be understood universally," says Hannah Hoffman, a graphic design major from Milwaukee, Wis. "It has the ability to speak when language barriers cannot be broken. My work is inspired by my interest in culture and the global connections I made while studying abroad."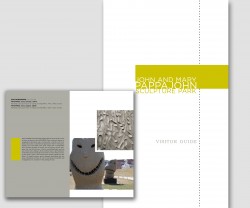 John and Mary Pappajohn Sculpture Park Visitor Guide, Lindsay Trabing
"I design with inspiration stemming from a fascination with antiquity," says Lindsay Trabing, a graphic design major from Indianola, Iowa who also minors in drawing and art history. "Design serves as my outlet to connect past and present, tie in personal experiences, and add a touch of modern flare. From recent travels to childhood memories, antique books to clean typography, my work aspires to bring each to life."

Horizontal Piece, Lucca Wang
"I tend to my conflicts of detachment to and deep-rooted appreciation for the natural world via my artwork," says Lucca Wang, a painting and public relations double major from Lawrence, Kan. "My use of color, pattern, and rhythm relate to the pulses of nature I experience and to memories of my childhood garden."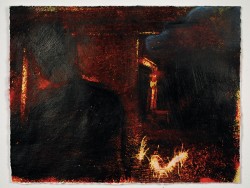 Untitled, Holly Wist
"A momentary interaction can be a phenomenon and an inference simultaneously," says Holly Wist, a painting major from Murphysboro, Ill. "The actuality of the event, its significance, and diminution cannot be separated."