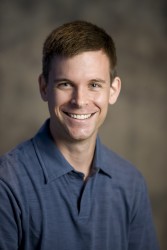 Michael Haedicke
The Humanities Colloquium Series at Drake University will continue Friday, April 8, with a presentation about political consumerism by Michael Haedicke, assistant professor of sociology in Drake's Department for the Study of Culture and Society.
The presentation, which is free and open to the public, is titled "Shopping for Social Change: Understanding Political Consumerism in a Cross-National Perspective." The event will start at 3:30 p.m. in the Honors Lounge of Medbury Hall, 2730 Forest Ave.
Political consumerism, the subject of Haedicke's talk, is defined by Michelle Micheletti as "consumer choice of producers and products with the goal of changing objectionable institutional or market practices." Most research about political consumerism has focused on exploring cases within the United States and Europe.
In his talk, Haedicke will discuss how this concept might be extended to other cultural contexts, requiring scholars to modify common assumptions about the nature of consumption and politics in order to interpret the diverse meanings that these activities possess in particular social and cultural settings. He will conclude with a discussion of how such a "from the ground-up" approach to political consumerism might guide research that he plans to conduct this summer in China, where he will teach a course on global commodity chains at Nanjing University.
At Drake, Haedicke teaches classes about social movements, food practices and the food industry, economic and organizational sociology, environmental sociology and social theory. His research focuses on social movements, organizations and culture, with an emphasis on organic foods. He is researching the American conservative movement's relationship to organic foods and agriculture, as well as the new economic phenomenon of "green jobs." In addition, he is a member of the board of directors of the Iowa Network for Community Agriculture.
Haedicke holds a bachelor's degree in sociology from Kalamazoo College and an M.A. and Ph.D. in sociology from the University of California in San Diego. His dissertation used organizational and cultural theory to examine conflicts within the organic foods industry between new, market-oriented businesses and alternative, collectivist organizations that developed in the industry's early years.
The Humanities Colloquium Series features Drake faculty members who offer insights into their current research in the humanities.
The spring series will conclude on Friday, April 22, with a presentation on "Imagination and as Inquiry: The Role of Research in Creative Writing" by Carol Spaulding-Kruse, associate professor of English, and Jennifer Perrine, assistant professor of English. The presentation will start at 3:30 pm. in the Medbury Honors Lounge.
For more information about the series, contact Joseph Schneider, director of the Drake Center for the Humanities, at 515-271-2158 or joseph.schneider@drake.edu.