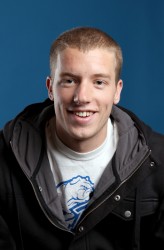 Ryan L. Price
Ryan L. Price, a sophomore at Drake University, is the sole Iowa college student selected to participate in the 2011 Student Freedom Ride, from May 6 – 16. The students will retrace a 1961 bus trip through the Deep South that historians credit as a turning point of the Civil Rights Movement.
Price, of Apple Valley, Minn., will join 39 other college students chosen out of nearly 1,000 applicants from 33 states — including many from Ivy League schools. The 10-day trip is sponsored by the PBS series "American Experience." Stanley Nelson, who directed the PBS documentary "Freedom Riders," will film the event for a follow-up documentary that will air later this year.
Students were selected based on essays they submitted, their commitment to civic engagement and their extracurricular activities.
Price serves as president of Sigma Phi Epsilon, the largest fraternity on campus, and vice president for programming on the University's Interfraternity Council. He is founder and president of Bulldog for a Day, a service group that brings low-income high school students to campus for two days each semester to learn about post-secondary educational opportunities.
He is a rhetoric-communication studies and broadcast news double major. Last spring, he interned in the Iowa Senate Democrat Communications office, where the staff named him an Outstanding 2010 Intern. One of the primary reasons he was selected for the Student Freedom Ride was his passion and civic engagement in his role as a weekly columnist for Drake University's student newspaper, The Times-Delphic.
"Civic engagement is the greatest civil service we can all commit to," said Price, who applied for the ride on the recommendation of Renee Cramer, associate professor and director of Drake's Law, Politics and Society Program. "If we actually learn from our past and have tough conversations, we can fulfill our civic duties more responsibly and more compassionately."
2011 Freedom Ride will engage students in a deeper understanding of the Civil Rights Movement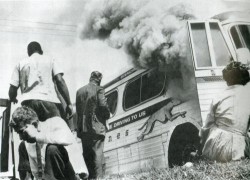 This bus was stoned and firebombed during the 1961 Freedom Ride.
The
original freedom riders, sponsored by the group The Congress of Racial Equality, aimed to defy southern states' laws that banned
blacks from riding in public interstate buses. In many of their
stopovers from Washington, D.C., to Mississippi, the riders were beaten and assaulted by mobs, and their buses were firebombed. As
the brutality continued, protests in support of the riders broke out in train stations
and airports across the South. That fall, federal rules were enacted
barring the segregation of interstate transportation.
The 2011 Student Freedom Ride will engage students in this important
era in American history, as they learn about the extraordinary
commitment and courage of the individuals who took part in the Freedom
Rides. The ride will also serve as a means of launching a national
conversation about the role of civic engagement and the issues that inspire today's students towards activism.
The students on the 2011 ride will have the opportunity to
meet a number of the original Riders as they travel through Virginia,
North Carolina, South Carolina, Georgia, Alabama, Tennessee and
Mississippi on their way to New Orleans. Stops will include historic sites on the
original ride such as the First Baptist Church in Montgomery, Ala.,
where federal marshals had to rescue the original riders from a mob.
Price is eager to see the people and places that shaped America but
are known to him only through history texts. "I applied for the 2011
Student Freedom Ride," Price said, "because it sounded like a rare
opportunity to experience American history, and to witness the power of
everyday Americans in creating positive social change in the face of
violent aggression."
The "Freedom Riders" documentary premieres on "American Experience"
on PBS at 8 p.m. Central Time on Monday, May 16. For more information,
visit pbs.org/freedomriders.
Follow the 2011 Student Freedom Ride:
On Twitter:

@pbsamex

@FreedomRidePBS



On Facebook:

http://www.facebook.com/ride