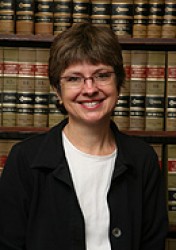 Rebecca Zietlow.
Rebecca Zietlow, Charles W. Fornoff professor of law and values at the University of Toledo College of Law, will deliver a lecture at Drake University on Thursday, April 7.
The lecture, a component of Drake's Constitutional Law Center's Distinguished Lecture Series, is titled "Congress and Belonging: Protecting Individual Rights." Free and open to the public, the event will begin at 3 p.m. in room 213 of Cartwright Hall, 27th St. and Carpenter Ave.
Zietlow holds a bachelor's degree from Barnard College and a law degree from Yale Law School. Before joining the University of Toledo, she clerked for U.S. District Court Judge John F. Grady in the Northern District of Illinois and worked as a staff attorney at the Legal Assistance Foundation of Chicago.
She has published in the fields of welfare reform, due process and congressional enforcement of civil rights. She is a regular blogger on the "Essentially Contested America" blog.