Each spring a small group of junior and senior Magazine majors at Drake University travels to New York City on a fast-paced networking trip to meet with editors all across the city.
Prof. Jeff Inman (@magstudies) is the tireless tour guide for this year's trip.
Follow their adventures on Twitter: [HTML1]
Here's a look at the group's schedule: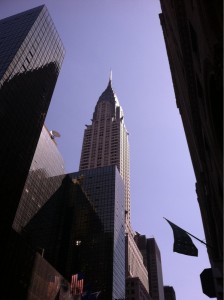 Wed., April 6
6:00 a.m.: Leave Des Moines
11:15 a.m.: Arrive in New York City
12:00 p.m.: Arrive at hotel, spend afternoon exploring
6:30 p.m. : Viral Video Awards ceremony with Advertising Age editors
Thurs., April 7
9:45 a.m. : Glamour: Wendy Naugle, Deputy Editor
11:15 a.m. : Esquire, Ryan D'Agostino, Articles Editor 1:00 p.m. : Babble.com, Andrea Zimmerman, Blogs Editor
2:45 p.m. : Ladies Home Journal, Ron Kelly, Managing Editor
4:30 p.m. : Fast Company, Allegra Lagani, Managing Editor
7:00 p.m. : Meet-up with Drake alumni working in NYC
Fri., April 8
9:30 a.m. Adage.com, Abbey Klaassen, Editor
11:00 a.m. Food Network, Vicki Wellington, publisher
12:00 p.m. Breathe
1:00 p.m. Elle.com, Laura Kudia, Digital Art
2:45 p.m. Fresh Home/Rachel Ray, Rachel Deschepper, Online Editor
4:30 p.m. Patch.com, Allison Quick, designer
5:30 p.m. Return to hotel
5:45 p.m. Collapse
The group will spend Saturday in New York City before returning on Sunday. Back to classes Monday with plenty of stories to tell!