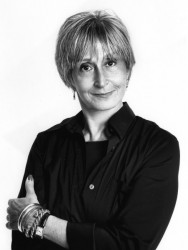 Twyla Tharp (Photo by Richard Avedon)
Twyla Tharp, celebrated choreographer, dancer and author, will speak at Drake University on Monday, April 4, as part of the Martin Bucksbaum Distinguished Lecture series.
Since founding her own dance company in 1965, Tharp has choreographed more than 135 dances, five Hollywood movies and directed and choreographed four Broadway shows.
She's earned a "genius" grant from the John D. and Catherine T. MacArthur Fellowship, a Tony Award for "Movin' Out," a rock ballet set to the music of Billy Joel, and two Emmy Awards. Tharp also holds 19 honorary doctorates, the 2004 National Medal of the Arts, the 2008 Jerome Robbins Prize and a 2008 Kennedy Center Honor.
Tharp's lecture will translate lessons from her more than 45 years of creativity and collaboration in the world of dance to a broader scope of experience. "An Evening with Twyla Tharp" should appeal to anyone interested in learning from a master of her craft.
"The root of any collaboration is interchange — literally, change," she wrote in "The Collaborative Habit: Life Lessons for Working Together" (Simon and Schuster, 2009). "Collaboration guarantees change because it makes us accommodate the reality of our partners — and accept all the ways they're not like us"¦The more we can draw upon our partner's strengths and avoid approving our partner's weaknesses, the better that partnership will be."
Tharp is author of two other books: An autobiography, "PUSH COMES TO SHOVE," (1992) and "The Creative Habit: Learn it and Use it for Life," (2003) a meditation that features exercises meant to open the mind to new possibilities in any field or endeavor.
In addition to giving the Bucksbaum Lecture, Tharp will be interviewed on Iowa Public Radio's "Talk of Iowa" program at 10 a.m. Monday, April 4, on WOI AM 640. She also will conduct a question-and-answer session with Drake students at 2 p.m. Monday in the Cowles Library Reading Room.
Tharp's lecture will build on Drake University's tradition of bringing engaging, thought-provoking evenings to the Des Moines community. Previous lecturers include Bob Costas, Jane Goodall, Salman Rushdie, Bill Bryson, Maya Angelou and, most recently, Azar Nafisi, author of "Reading Lolita in Tehran: A Memoir in Books."
"An Evening with Twyla Tharp" is free and open to the public. The event will take place at 7 p.m. at in Drake's Knapp Center, 2525 Forest Ave. A book signing will follow.
Mars Cafe, 2318 University Ave., will offer some Bucksbaum Lecture specials (Darbycakes cupcakes and drink specials, including the "Twyla Twist," a raspberry mocha) from 5-7 p.m. and then again after the lecture.
For more information about Tharp's lecture at Drake, visit www.drake.edu/bucksbaum or call 515-271-4990.