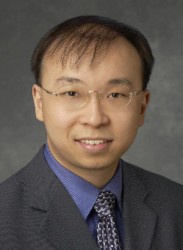 Peter K. Yu
Peter K. Yu, the Kern Family chair in intellectual property law at Drake University Law School, will deliver a keynote opening address at the annual international law symposium at the University of Oregon School of Law on April 8.
Titled "China's Role in Regulating the Global Information Economy," the event is organized by the University of Oregon Confucius Institute and the Oregon Review of International Law."¨
Yu's speech, "The Middle Kingdom and the Intellectual Property World," explores the rise of China and its ramifications for the future development of the international intellectual property system. It also discusses the challenges to improving intellectual property protection and enforcement in this highly populous country.
ҬӬAlso featured in the symposium is Sharon Barner, the former deputy under secretary of commerce for intellectual property and deputy director of the U.S. Patent and Trademark Office, and Mark Cohen, director of international intellectual property of Microsoft Corporation.ӬӬ
On Wednesday, April 6, Yu will discuss the role of China in shaping international economic law at the "China and International Law" Symposium at the University of Chicago Law School. The event, which is jointly sponsored by the Confucius Institute and the University of Chicago Law School, includes presentations from leading scholars on Chinese law."¨
Yu is a preeminent expert on intellectual property law and policy in China and one of the leading experts on Chinese law. He holds the prestigious Wenlan Scholar Chair Professorship at Zhongnan University of Economics and Law in Wuhan, China. In the summer, he serves frequently as a visiting professor of law in the faculty of law at the University of Hong Kong.ӬӬ
Born and raised in Hong Kong, Yu writes in Chinese and English and his publications have been translated into French, Japanese, Persian, Portuguese, and Spanish. He recently testified before the U.S. International Trade Commission on intellectual property protection and enforcement in China.ӬӬ
Yu currently serves as the director of the nationally renowned Intellectual Property Law Center at Drake University Law School. Under his leadership, the center has served as a leading international hub for research and education in the intellectual property field. In the past three years, U.S. News and World Report magazine has ranked the center consistently among the top 25 intellectual property law programs in the United States and one of the top five programs in the Midwest.ӬӬ
The center also has a longstanding history of cooperation with Chinese law schools. Since its inception, the center's visiting scholars program has attracted a number of visiting professors and students from China. Among the participants are law professors from the China University of Geosciences in Wuhan, the Hebei Academy of Agricultural and Forestry Science in Shijiazhuang, the Southwest University of Political Science and Law in Chongqing, the South China University of Technology Law School in Guangzhou, and Zhejiang Gong Shang University School of Law in Hangzhou.