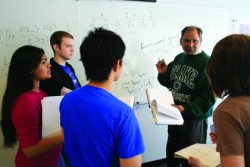 Students interact with Professor of Actuarial Science Rahul Parsa, organizer of the roundtable discussion.
On Monday, April 4, Drake University will host a roundtable discussion with insurance experts on Solvency II, the updated set of regulatory requirements for insurance firms that operate in the European Union.
The European Union insurance legislation is designed to facilitate the development of a single market in insurance services in Europe, while at the same time securing an adequate level of consumer protection. The new regulations are scheduled to take effect by Jan. 1, 2013.
The roundtable will take place from 9 a.m. to 2 p.m. in Parents Hall, Olmsted Center, 2875 University Ave. The program is free and open to the public, and lunch will be provided to participants.
Presented in conjunction with Drake's Actuarial Science Program, Kelley Insurance Center and PricewaterhouseCoopers, the event will serve as a review of Europe's insurance industry, as well as an analysis of how the industry's policies have impacted companies globally.
Charles Edwards, dean of Drake's College of Business and Public Administration and School of Journalism, will deliver opening remarks. Thomas Struppeck, the Robb B. Kelley distinguished visitor in risk management at Drake, will serve as moderator of the session.
Other experts speaking at the event are:

Terri Vaughan

, former Iowa insurance commissioner and Drake faculty member, current CEO of the National Association of Insurance Commissioners

Joel Steinberg

, senior vice president and chief actuary for New York Life Insurance Co.

Mark Hewitt

, board member of the Federal Reserve Bank of Chicago and president and CEO of Clear Lake Bank & Trust Co.
In addition, the discussion will feature representatives from Aviva USA, AEGON, GuideOne Insurance Co., Milliman, PricewaterhouseCoopers and Principal Financial Group.
Advance registration is required. For more information, contact Amber J. Johnson at amber.johnson@us.pwc.com or 312-298-3771, or visit www.meetpwc.com/drakeroundtable.
A Roundtable Discussion of Solvency II

When: Monday, April 4, 9 a.m. to 2 p.m.

Where: Parents Hall, Olmsted Center, 2875 University Ave.

Registration: Required. Contact Amber Johnson at amber.johnson@us.pwc.com or 312-298-3771, or visit www.meetpwc.com/drakeroundtable.

Cost: Free