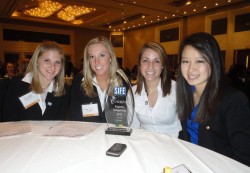 Team members Diane Olsen, London James, Allison Heifner and Yoobin Choi admire the team's trophy.
The Drake University Students in Free Enterprise (SIFE) team was named a
Regional Champion at the SIFE USA Regional Competition held March 28 in
Chicago. The event is one of 12 SIFE USA Regional Competitions being
held across the United States in March and April.
Drake SIFE is one nearly 600 programs in the United States. Participating students use business concepts to develop community outreach projects that improve the quality of life and standard of living for people in need.
The Drake team competed by presenting the projects it has completed
during the 2010-11 academic year. The presentation highlighted the
results of the projects and the many lives that the Drake SIFE team has
touched. These include fellow Drake students, local elementary and high
school students, community members, immigrants and those in need.
The six projects organized by the Drake SIFE team this year were:

"Brand Yourself," a seminar on Drake University's campus
"Krafty Kids" in which elementary students developed business
plans, marketing strategies and then sold hand-decorated flower pots at
Drake
"Helping the Homestead," which worked toward sustainability for a campus for autistic individuals
"C.U. This Week," which taught financial literacy to middle and high school students
"Las Americas," which helped local Latin American immigrants with their small businesses
"Growth. Engagement. Development." in which students aided local residents in obtaining their GEDs
Attending the SIFE Regional Competition was an exciting experience
for all 33 students who represented Drake's team, including many who
have never previously attended a SIFE competition.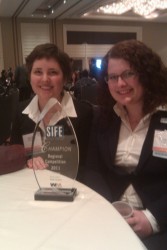 Team co-chairs Sara Block and Katelyn Massey look forward to competing in nationals.
"We are excited to present at the SIFE National Competition because it
gives us a chance to showcase the hard work we have put into all of our
projects as well as the significant impact we have made on those in
need," said Katelyn Massey, co-president of Drake SIFE. "It is also a
great way to represent Drake University and show that our students care
about making a difference."



Faculty advisers Dorothy Pisarski, assistant professor advertising, and
Deb Bishop, associate professor of practice of management, accompanied
the students to the competition.
"The students have worked hard to reach into the community this year and
have represented Drake well," said Bishop. "I am proud of all their
accomplishments and they were very deserving of this recognition."
SIFE is an international nonprofit organization that brings together the
top leaders of today and tomorrow to create a better, more sustainable
world through the positive power of business. Founded in 1975, SIFE has
active programs on more than 1,500 college and university campuses in 39
countries. Through projects that improve the lives of people worldwide,
the university students, academic professionals and industry leaders
who participate in SIFE are demonstrating that individuals with a
knowledge and passion for business can be a powerful force for change.