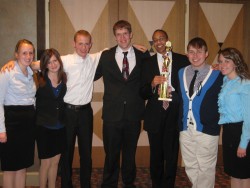 Drake Undergraduate Mock Trial team 1237 at the Opening Round Champion Series.
The Drake Undergraduate Mock Trial team placed fourth at the Opening Round Champion Series (ORCS) competition held March 25-27 at Hamline University in St. Paul, Minn. and earned two individual awards. Team 1237 advances to the American Mock Trial Association (AMTA) national championship tournament hosted by the Drake University Law School on April 15-17. The competition will be held at the Polk County Courthouse and Polk County Convention Center.
"Getting to nationals is what we've been working for all year long," said Kyair Butts, a senior psychology and journalism major and co-captain of Team 1237. "We all had our doubts, but our hard work paid off. I'm incredibly proud of this team and what they've done. This is a special group of people."
The final pool of 48 teams was narrowed from more than 600 teams during the past two months. Drake placed fifth in its regional competition last month, ensuring a place in the top 180 teams. Drake's success at ORCS now places the team in the top 50.
In addition to team 1237 finishing fourth out of a pool of 24 teams, the other co-captain earned an award for being the best witness at the tournament. Daniel Van Sant, a senior international relations major, received the All ORCS Witness Award for his portrayal of a German toy designer at the fictional company of HappyLand Toy Co., as well as an undercover journalist that investigated the same company. This year's case involves a parent suing this toy company for allegedly being responsible for his son's death by poisoning.
"I was shocked and thrilled to receive this award because I have been involved in Mock Trial for 11 years and being the top-ranked individual at our ORCS was a great addition to my last year," Van Sant said. Junior news-Internet major Greg Boal also received one of 10 Outstanding Attorney awards.
Members of team 1237 include Kyair Butts of Des Moines; Daniel Van Sant of Malvern, Iowa; Greg Boal of Des Moines; Chris Bartak of Long Pine, Neb. (senior, actuarial science); Sarah Francis of Carroll, Iowa (senior, biochemistry, cell and molecular biology); Yvonne Gildemaster of Sioux Falls, S. D. (first-year, biochemistry, cell and molecular biology) and Ame Schultz of Cedar Rapids, Iowa (first-year, economics/law, politics and society).