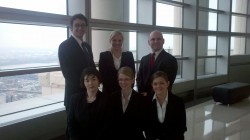 Back: Bryan O'Neill, Catherine Cargo, Joseph Vogel
Front: Catherine Hollinrake, Emily Zerkel, Bridgette Huntley
Six Drake University Law students competed in the National Appellate Advocacy Competition (NAAC), one of the nation's largest and most prestigious moot court competitions.
One of Drake's team remained undefeated throughout all five rounds of the tournament and received an invitation to the national finals in Chicago on April 6-8 at the American Bar Association Headquarters.
The advancing team of Bridgette Huntley (3L), Emily Zerkel (2L), and Catherine Hollinrake (3L) had one of the top ten brief scores of the competition, and Zerkel was recognized as one of the top ten competitors, winning a Best Oralist Award. The team bested Vanderbilt, Denver, Mercer, Southern Illinois University, and the University of Mississippi.
Stanley is confident in the team's abilities for the upcoming competition.
"The six members of this year's ABA Moot Court Team are extremely bright, hard working and professional," says Donn Stanley, coach for both ABA teams and an attorney with the Iowa Attorney General. "They are fine examples of the quality of students at Drake Law School. I am grateful for the opportunity to work with them and proud of their accomplishments."



The Drake team will join teams from Chapman University and Washington
University in St. Louis from the St. Louis regional at the national
competition.
The other Drake team of Bryan O'Neill (3L), Joseph Vogel (3L), and
Catherine Chargo (3L) advanced to the third round at the regional
tournament, but did not advance to nationals. The team competed against
Mercer, LSU, and Duquesne whom they bested in the second round.
Drake University law students compete in both moot court competitions
and mock trial competitions throughout the year. Moot court simulates an
argument before a panel of appellate judges, while mock trial simulates
a trial to the jury or the bench.