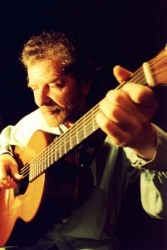 Tommy Sands
Tommy Sands, a native of Northern Ireland and traveling musical artist, will deliver a program about the turbulent political environment of his homeland with a story-through-song performance on Tuesday, March 29 at Drake University. The event will be held at 7 p.m. in the Harmon Fine Arts Center at 2505 Carpenter Ave. It is free and open to the public.
The program, titled: "The Troubles through the Eyes of a Troubadour: A Northern Ireland Perspective," is ultimately about achieving hope and healing among those with differences. The event features his two children, which will showcase songs about peacemaking, Northern Ireland, and the message that even in the midst of conflict, music speaks louder than violence.
Sands has traveled to Israel, Palestine, Afghanistan and Cuba where he has delivered messages of peace through song. Sands' music draws the audience into compelling tales of Ireland's great loves, conflicts and its playful yet unbreakable spirit. The U.S. magazine "Sing Out!" called Sands, "The most powerful songwriter in Ireland if not the rest of the world." Sands recently released a collection of songs entitled, "Arising from the Troubles."
This program is presented as part of Center for Global Citizenship (CGC) spring 2011 "Global Perspectives" series at Drake. The series aims to bring international scholars from a variety of disciplinary backgrounds — including law, business, political science, sociology and agronomy — to the University.
"We have invited six international guests to campus to explore with faculty, students, staff and the community, points of view that expand beyond our U.S. borders," said CGC Interim Director Darcie Vandegrift. "This series is special because it allows us to step beyond usual U.S. perspectives on the rest of the world, truly advancing our ability to understand the world as global citizens."
Please visit the CGC website or more information on the series, including a schedule of upcoming events: drake.edu/international/cgc/


"The Troubles through the Eyes of a Troubadour: A Northern Ireland Perspective"

Northern Ireland musician and peace activist, Tommy Sands, to perform musical concert

When: Tuesday, March 29 at 7 pm

Where: Harmon Fine Arts Center, 2505 Carpenter Ave. at Drake University

Cost: Free and open to the public

Info:www.drake.edu/international/cgc