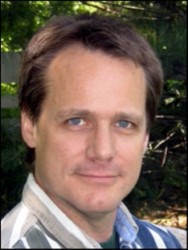 Tim Riley
From WikiLeaks to social media use in the Egyptian revolution, freedom of speech is certainly a trending topic in global civil liberties today.
Tim Riley, rock critic, author and journalist-in-residence at Emerson College, will address free speech issues and the conflicts and consequences of war at 7 p.m. Monday, March 28, in Drake University's Sheslow Auditorium, Old Main, 2507 University Ave. The lecture, titled "Let Freedom Leak," is free and open to the public.
The Hawley Foundation Lecture is an annual event that exposes students to a broad range of topics presented by prominent academic intellectuals. Past presenters have included writers, educators, activists and scientific researchers. Issues addressed in the talks have a civic or public impact.



Riley is a National Public Radio music critic and author of numerous books, including "Tell Me Why: A Beatles Commentary," and "Hard Rain: A Dylan Commentary." His byline has appeared in The Washington Post and Boston Magazine, among many other publications. Riley has lectured widely on censorship in the arts and on rock history, and was Brown University's critic-in-residence in 2008.
This year's lecture is sponsored by the Hawley Lectureship Foundation, Drake Honors Program, Honors Student Council and partially funded by the Engaged Citizen Experience.


"Let Freedom Leak" Hawley Foundation Lecture

Presenter Tim Riley addresses free speech issues and the conflicts and consequences of war. Riley is a rock critic for National Public Radio, author, and journalist-in-residence at Emerson College in Boston.

When: 7 p.m., March 28

Where: Sheslow Auditorium, Old Main, 2507 University Ave.

Cost: Free

Info: 515-271-2999