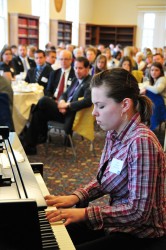 Caitlin Podemski performs an excerpt of a piano sonata by Mozart during Drake's Scholarship Luncheon to show her appreciation for the University's scholarship donors.
As the 2010-11 school year draws to an end, many high school seniors are undoubtedly seated with their parents around kitchen tables, poring over acceptance letters and financial aid packages from colleges and universities.
Drake sophomore Caitlin Podemski certainly remembers her college search. The music and psychology major from Rockford, Ill., weighed Drake's reputation for academic excellence against the price tag for tuition — and decided to enroll only after she received an endowed scholarship from Winifred M. Kelley, mother of EMC Insurance Companies President Bruce Kelley.
"Without that scholarship, I could not have attended Drake," Podemski said. "It has helped make me the best person I can be."
Podemski was one of dozens of scholarship recipients who joined University officials, friends, alumni and donors at Drake's second annual Scholarship Luncheon on Friday, March 25.
The luncheon honors the many individuals, families, companies and foundations that contributed to Drake's scholarship funds last year. It also gives donors an opportunity to meet the students who benefit from their scholarship contributions.
Podemski, in meeting Winifred Kelley, discovered they were both members of the musical fraternity Sigma Alpha Iota. She showed her appreciation to Kelley and the rest of the donors by performing an excerpt from a sonata by Wolfgang Amadeus Mozart.
Approximately 150 people attended the luncheon, including representatives from 21 contributing families and organizations.
"We are excited to celebrate this moment," said John Smith, vice-president of alumni and development at Drake University. "And we'd like to thank you all for sharing the recognition that philanthropy can, and does, transform the future of an institution."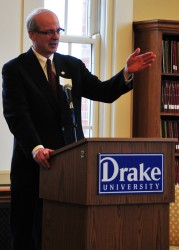 Bruce Kelley, president and CEO of EMC Insurance Companies, discusses the value of philanthropy during Drake's second annual Scholarship Luncheon Friday, March 25.
Thanks to the generosity of donors, 98 percent of Drake University
students receive at least some financial aid. The University spent $47
million on aid for students in the current fiscal year, making financial
aid the second highest line item on Drake's budget, second only to
faculty and staff salaries.
The average award package at Drake for the 2010-11 school year was in excess of $19,000.
"A lot has been said, recently, about how expensive higher education has
become and how that affects student access," Drake University President
David Maxwell said. "I want everyone to know how sensitive we are to
that issue, and how hard we work to make the price of an education have
as little an impact as possible on students. We do that by reducing our
costs and providing students the maximum financial aid."
A.J. Harris, a senior actuarial science and finance double-major from
Des Moines, was one of 15 students this year to receive an endowed
scholarship from EMC Insurance Companies.
"The financial aid I've received has saved me from taking out additional
loans during my final semesters of study," Harris told donors. "Drake
is an appealing choice to many students because of the level of
financial aid offered by this institution."
EMC Insurance Companies, which has contributed to Drake University in
myriad capacities in the business' 100-year history, recognizes that
"Drake is a great institution, a great provider of employees and
attracts some of the very best students in the United States," said
company President Bruce Kelley.
During his remarks, Bruce Kelley named five Drake alumni who he said
"helped move EMC Insurance Companies forward" and outlined some of their
contributions to the company.

George W. Kochheiser, undergraduate class of 1949, was chairman of
EMC from 1994 to 2007 and was president and chief operating officer of
the company from 1982 until his retirement in 1991.
Richard Haskins, Drake Law School class of 1951, worked at EMC
while studying law. He went on to expand the company's reinsurance
projects around the world.
Tom Wright, Drake Law School class of 1948, ran EMC's claims operation until his retirement in 1989.
Fred Schiek, undergraduate class of 1959, ran EMC's branch office
in Omaha and served a term as chairman of the Board of Directors.
John Isenhart, undergraduate class of 1962, designed cost-effective programming as a data processing technician for EMC.
"Yes, there are great professors and great programs everywhere," Bruce
Kelley said, "But we believe that Drake has professors and programs that
are second to none."
Drake University in October 2010 launched the distinctlyDrake campaign. A
leading priority of the ongoing $200 million campaign is providing
access for students through endowed and current scholarships.