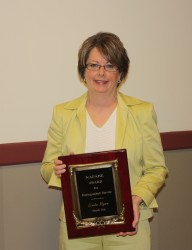 Linda Ryan
Linda Ryan, executive assistant to the president and secretary of the University, was recognized for her dedicated service to the National Association of Presidential Assistants in Higher Education (NAPAHE) at a recent conference in Washington, D.C., which is held in conjunction with the American Council on Education's Annual Meeting.
During the time she has been involved with NAPAHE, Ryan has displayed extraordinary service to the organization as a member and board member. Her peers recognized her as a respected and deeply committed colleague who has held many leadership roles within the organization, including secretary, chair-elect and chair.
During a recent crisis within the organization, Ryan stepped up and volunteered her time to catalog NAPAHE historic information and records. She worked with President Maxwell to allow Drake University to be the host

institution for NAPAHE and took a learning and development leave last July to focus on NAPAHE matters and help the organization right itself.
"Thanks to her persistence, tenacity, and love for NAPAHE, not only has she turned our organization around, we are now facing a very bright future," said Max Allen, chief of staff at the University of North Carolina — Wilmington and NAPAHE vice chair.
Ryan has served for more than twenty years as a presidential assistant.