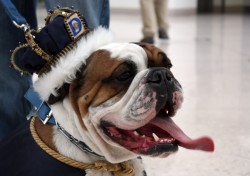 Meatball, the reigning Beautiful Bulldog, presides over the drawing to select this year's contestants.
This year's Beautiful Bulldog contest will feature a merry band of slobbery canines from across the United States. Contestants from Colorado, South Carolina, Nebraska, Minnesota, Illinois and Iowa will vie for the title of Beautiful Bulldog this spring.
"We're going to see a lot of first-time entrants and a big diversity of bulldogs from a lot of states," said Dolph Pulliam, Drake's director of community outreach and development.
Dozens of droopy dogs and their owners converged on Des Moines' Capital Square on March 10 for the first-ever lottery-style drawing of contest participants. Event organizers implemented the lottery system this year to make the contest fairer for all bulldogs.
Meatball, who holds the current Beautiful Bulldog title, oversaw the festivities from atop a throne. A gallery of event photos is available online.
Traditionally, contest organizers had accepted the first 50 registrants. This year organizers chose 50 contestants and five alternates from a pool of nearly 100 applicants. In another rule change this year, families were allowed to enter just one bulldog per household.
Drake University's 32nd Annual Beautiful Bulldog Contest will begin at 10:45 a.m. on Monday, April 25, in Nollen Plaza, Third and Locust streets in downtown Des Moines. Judging will take place from 10:45 a.m. to noon, followed by the pageant from noon to 1 p.m. The winner will serve as the official mascot for the 102nd running of the Drake Relays and appear in the 2011 Relays Parade.
The contest's rules state that all competitors must be English bulldogs. In addition, costumes and outfits are encouraged in order to express the personal style of each competitor and catch the interest of the judges. As in years past, "beauty" is determined by the judges' subjective opinion.

Official List of Contestants
| | | | | | |
| --- | --- | --- | --- | --- | --- |
| Contestant # | Last Name | First Name | Dog's Name | City | ST |
| 1 | Mccleary | Crystal | Miller | Des Moines | IA |
| 2 | Burgart | Tony | Tank | Urbandale | IA |
| 3 | Brown | Nancy | Lucy Brown! | Johnston | IA |
| 4 | McKenzie | Angela & T.J. | Lily | Urbandale | IA |
| 5 | Ellefson | James | Gizmo | Elkhart | IA |
| 6 | Dennis | Christa | Pearl | Ankeny | IA |
| 7 | Toner | Billy | Fenway | CEDAR RAPIDS | |
| 8 | BeLieu | Teresa | Madison | Des Moines | IA |
| 9 | Cazett | Michelle and Chris | Jasper | Newton | IA |
| 10 | Wilson | Tammy | zza zza | Newton | IA |
| 11 | Kubin | Susie | Trudy Blanche Kubin | Broomfield | CO |
| 12 | Fisher | Mark & Pam | Winston T | West Okoboji | IA |
| 13 | Sanford | Sara | Franklin | St. Paul | MN |
| 14 | Perry | Jana | Hades | Fremont | NE |
| 15 | Pearson | Andrea | Hemi | Lone Tree | IA |
| 16 | Larson | Dave & Susan | Ramone | DES MOINES | IA |
| 17 | Penrod | AnnaStacia | Titus Maximus | Ellsworth | IA |
| 18 | Vest | Chris | Alexis Lucille | Ankeny | IA |
| 19 | Leonard | Matthew | Dozer | Des Moines | IA |
| 20 | Kamminga | Kristine | Marby's Love at First Bite Apple | Ankeny | IA |
| 21 | McCoy | Thomas | Shiner | Des Moines | IA |
| 22 | Marek | Jim | Spot | Grimes | IA |
| 23 | Kooienga | Mark | Bentley | Urbandale | IA |
| 24 | Tokheim | Cari | Rosie | Omaha | NE |
| 25 | Rietz | Paul | Toro | Norwalk | IA |
| 26 | Langworthy | Chad | Ginger | Clive | IA |
| 27 | Korthaus | Amy & Tony | Butch | Eden Prairie | MN |
| 28 | Cochran | Brad | Crown Vincent da Mobster | Runnells | IA |
| 29 | Eadon | Derek | Reggie | West Des Moines | IA |
| 30 | Havermann | Brian | Zeus | West Des Moines | IA |
| 31 | mcleod | damon | ace | pleasant hill | IA |
| 32 | Kirby | Barbara | Stone Meadows Rhett Butler | Keokuk | IA |
| 33 | Ross | Nick | Bubba | Center Point | IA |
| 34 | Musselman | Deb | Gunney | Carlisle | IA |
| 35 | Hulstein | Travis and Anne | Winston | West Des Moines | IA |
| 36 | Squire | Anthony | Oliver | West Des Moines | IA |
| 37 | Buss | Jody | Dozer | Cedar Rapids | IA |
| 38 | Laing | Jason | Stitch | Earlham | IA |
| 39 | DuBois | George | Buddy | Ankeny | IA |
| 40 | Padilla | Joana | Rocky | Des Moines | IA |
| 41 | Apt | Robert and Elizabeth | Maxxis | Des Moines | IA |
| 42 | Corbett | Aimee | Princess Lovie Bear | St. Charles | IL |
| 43 | Steil | Carl & Kim | Daisy Bear | Eagle Grove | IA |
| 44 | Carney | Jamie & Jennifer | Riggs | Winterset | IA |
| 45 | Schnathorst | Lisa | Addie | Overland Park | KS |
| 46 | Riedl | Shannon | Meatball Marinara | Des Moines | IA |
| 47 | Driscoll | Cindy | Zena, the Warrior Princess | Cedar Rapids | IA |
| 48 | Osofsky | Michele | Snuggles | Coralville | IA |
| 49 | Kozak | Janna | Bentley | West Des Moines | IA |
| 50 | Shepherd | Mandy | Tank | Urbandale | IA |
| Alternate 1 | Tweeton | Sheila | Beatrice Bea | Johnston | IA |
| Alternate 2 | Harris | Tootie | Bella Rose | Milford | IA |
| Alternate 3 | Carver | Rhonda | Layla | Grimes | IA |
| Alternate 4 | Perrin | Vicki | Gabby (Princes Gabriella Sparkles A La Mode) | Aurora | IL |
| Alternate 5 | Blanton and Bryant | Bessie and Matthew | Moose Man XVI | Clover | SC |