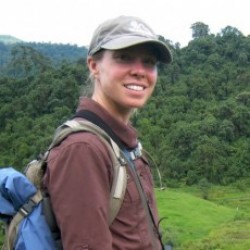 Rebecca Chancellor
A scientist who studied a small population of chimpanzees facing extinction in a tiny pocket of African rain forest will speak about her experiences at a public lecture this week at Drake University in Des Moines.
Dr. Rebecca Chancellor, principal investigator for the Gishwati Area Conservation Program in the western highlands of Rwanda will speak on Thursday, March 10 at 3:30 p.m. in Olin Hall, room 206.
For more than two years, Chancellor directed the research field site in Gishwati National Conservation Park, home to 19 East African chimpanzees (Pan troglodytes schweinfurthii). Her lecture, "Changes in Fruit Abundance and Chimpanzee Fallback Food in the Gishwati Forest Reserve," is free and open to the public.
The Gishwati Area Conservation Program began in late 2007 when H.E. President Paul Kagame of Rwanda and Great Ape Trust Founder Ted Townsend pledged at the Clinton Global Initiative conference to found a "national conservation park" in Rwanda to benefit climate, biodiversity and the welfare of the Rwandan people. Over the past three years, reforestation efforts have increased the Gishwati forest by 67-percent while the chimpanzee population has grown 46-percent from 13 to 19 apes.
The Gishwati Forest Reserve's history of deforestation extends over 50 years, in part because of ill-advised large-scale cattle ranching projects, resettlement of refugees after the genocide, inefficient small-plot farming and the establishment of plantations of non-native trees. As a result, the area has been plagued with catastrophic flooding, erosion, landslides, decreased soil fertility, decreased water quality and heavy river siltation — all of which aggravate a cycle of poverty.