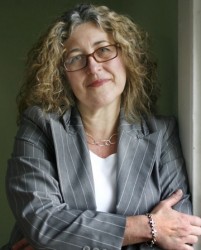 Ann Kovalchick
Ann Kovalchick, chief information technology officer for Drake University, was recently selected to serve on the board of directors for The Technology Association of Iowa (TAI). TAI is recognized as the premier professional organization driving the success of the state's technology industry and tech-based economy.
"The role of higher education in supporting local and state economic development in the technology sector is critical," Kovalchick said. "I hope to establish a role for Drake in contributing to the local and state economic development of an industry that is future-oriented, and that will be fueled by the kind of creative and innovative thinking that is characteristics of young adults today. "
Kovalchick will serve alongside corporate executives from Rockwell Collins, Pioneer Hi-Bred, IBM Corporation, Nationwide, Aviva, Microsoft, CISCO, and Qwest, among others. The University of Iowa, Iowa State University, Des Moines Area Community College and Kirkwood Community College are among the institutes of higher education also represented on the board.
Kovalchick anticipates her role with TAI will help connect the University to statewide technology initiatives and opportunities.
"Through my involvement in TAI, I hope that I can help to build ties between the academic disciplines at Drake relevant to technology professions such as computer science and visual and interactive design fields and the local and state businesses seeking to invest and establish roots in the 'Silicon Prairie' community," she said.
TAI hosts The Heartland Greenup Technology Symposium & Expo , a June 2 event focused on promoting awareness of and best practices in reducing overall energy consumption and carbon footprints in information technology. To register for the event, or for more information on the Technology Association of Iowa, visit http://www.technologyiowa.org .