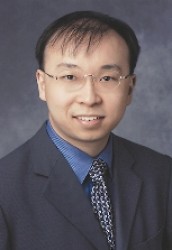 Peter K. Yu
On Wednesday, Feb. 23, Peter K. Yu, the Kern family chair in intellectual property law at Drake University Law School, will return to the United Nations to teach diplomats and U.N. personnel about the protection and enforcement of intellectual property rights. His presentation will focus on the basic principles of copyright.
Held at the U.N. headquarters in New York, the WIPO/UNITAR Seminar on International Intellectual Property was organized by the World Intellectual Property Organization (WIPO) and the United Nations Institute for Training and Research. Since 2002, Yu has frequently shared his intellectual property expertise in the seminar.
Yu is the general editor of The WIPO Journal, published by Sweet & Maxwell in association with the World Intellectual Property Organization. In December 2009, he served as one of the two resource persons at the WIPO Regional Seminar on the Implementation of the Development Agenda for the Arab region in Tunis.
Later in the week, Yu will chair a panel on "The Present and Future of International Jurisdiction and Enforcement of IP Rights" at the 2011 International Law Weekend — West, which will be held Feb. 26 at Southwestern Law School in Los Angeles.
Titled "2021: International Law Ten Years From Now," this biennial international law event was organized by Southwestern Journal of International Law in conjunction with the American Branch of the International Law Association.
The International Law Association is a prestigious international nongovernmental organization founded in Brussels in 1873. Yu currently sits on the executive committee of its American Branch. He also served as the co-chair of its annual conference in 2006.
While in Los Angeles, Yu also will deliver a lecture on "Sinic Trade Agreements" at Chapman University School of Law. Organized by the Center for Global Law and Development, the lecture examines the bilateral and regional trade agreements China has recently established with its trading partners. The talk draws on Yu's forthcoming article from the U.C. Davis Law Review, which is available online.
Yu is the founding director of the Intellectual Property Law Center at Drake University Law School. A leading expert in international intellectual property and communications law, he has given lectures and presentations in more than 20 countries on six continents. His publications have also been translated into Arabic, Chinese, French, Japanese, Persian, Portuguese, and Spanish.
Under his leadership, the Drake Intellectual Property Law Center has served as a leading international hub for research and education in the intellectual property field. In the past two years, the U.S. News and World Report magazine has ranked the center consistently among the top 25 intellectual property law programs in the United States and one of the top five programs in the Midwest.