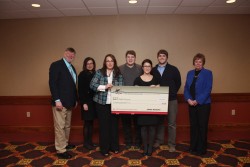 Members of the Drake University digital media team accept the 2010 Community Betterment Grant.
(Des Moines, IA) Drake University has received a $10,000 grant from Prairie Meadows Racetrack and Casino through its 2010 Community Betterment Grant Program.
Grant funds will help to support a new digital media initiative. Drake hopes to provide better access to the fine arts, lectures and other educational events held on campus each year through new digital media initiatives implemented by the Marketing and Communications office. With new equipment, campus events can be recorded and turned into videos and podcasts that can be distributed through multiple channels and viewed by anyone with an Internet connection.



The Prairie Meadows Grants Advisory Committee, comprised of community, business and education leaders from the greater Des Moines area, reviewed the 405 Community Betterment Grant Applications received by Prairie Meadows. The grant applications were scored on demonstration of need, leverage of other funds secured and applied for, community support, community impact, population served, proposed evaluation of results, and strength of the organization. The Grant Advisory Committee recommended $1.9 million in funding to be 192 recipients to the Prairie Meadows Board of Directors for final approval.



Members of the Prairie Meadows 2010 Grant Advisory Committee included Tom Whitney, committee chair, Dr. Mary Chapman, Dr. Jerry Deegan, Dr. Thomas Glenn, Linda Grandquist, Chaunci Hall, Mike Mathews, Dr. Andy McGuire, Ron Morden, Loretta Sieman, Brad Skinner, John P. Smith, Don Timmins, Jodi Urich, Karrie Weinhardt, and Martha Willits.



For more information about Drake University, visit http://www.Drake.edu. The University homepage features a variety of links to social media outlets, including Facebook, Twitter, Flickr and YouTube.